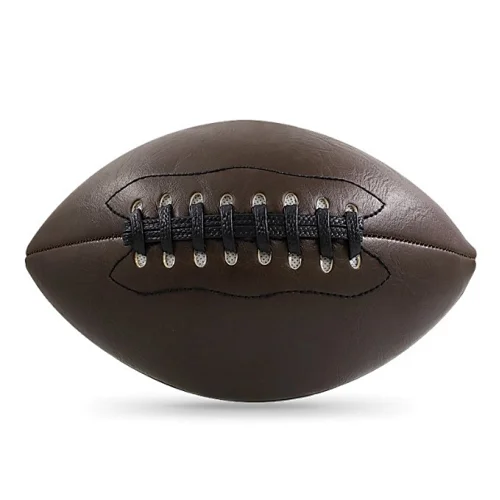 PU American Football
Union Max Fitness specializes in sports training products including the highest quality PU American Football. If you need this product, please feel free to contact us.
Description of

PU American Football
PUamerican football is a kind of rugby made of polyurethane material. It has strong durability and good grip. The surface is designed with special patterns, which can increase the player's grip on the ball and help control the flight trajectory of the ball. The lightweight design makes it easier for players to catch and pass the ball, making it a widely used football in modern rugby games.
Product Features of

PU American Football
1. The rubber molded liner has good air tightness and is not easy to leak.
2. The PU leather material is preferred, non-slip and wear-resistant, with good hand feeling, easy to catch and control the ball, etc.
3. Precision machine stitching, high-quality craftsmanship to ensure air tightness.
4. High-quality air hole design, professional structure and assembly method, smooth surface, good air tightness, effectively prevent water ingress.
5.Conventional getter packaging, color can be customized according to customer requirements.
Specifications of

PU American Football
| | |
| --- | --- |
| Product Name | PU American Football |
| Origin | China |
| Certifications | ISO 9001 |
| Brand | Union Max |
| MOQ | 200 pieces |
| Price | $5.16-8.25/piece |
| Packing | Carton |
| Material | PU |
| Size | 3#/5#/6#/7#/9# |
| Weight | 250-360g |
| Usage | Physical Training |