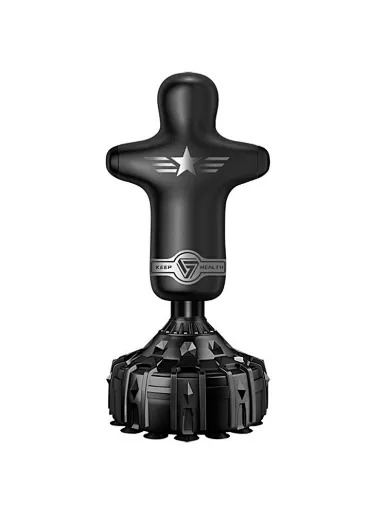 PU Humanoid Sandbag
Union Max Fitness specializes in boxing training products including the highest quality Humanoid Sandbag. If you need this product, please feel free to contact us.
Description of Humanoid Sandbag
Humanoid sandbags are widely used as a training equipment that can improve the sense of actual combat and practice interest, especially in boxing training halls. They generally include a base, a humanoid sandbag body, and elastic connectors at both ends connected to the base and the sandbag body. As the main body of the bearing, the base has a large weight, which requires the buyer to fill in sand and water, etc., and has a suction cup at the bottom to improve the stability.
Product Features of Humanoid Sandbag
1.Thickened high-density PU leather, high elasticity and resistance to beating will not hurt your hands, and soft materials will not hurt your feet.
2.The interior is filled with environmentally friendly rags and high-quality sponge to increase the plumpness, and the anti-sag rebound is faster.
3.The machine is hand-stitched and double-stitched, which is strong, durable and safer.
4.Close to actual combat, the humanoid design can be multi-faceted, with a strong sense of attack, adding practical combat.
5.Scientific shock absorption, reasonable force buffering enhances noise reduction, and silence does not disturb the public.
6.The base is stable, not inclined, the swing range is small, and the elasticity is durable, which can be used for strength training.
Specifications of Humanoid Sandbag
| | |
| --- | --- |
| Product Name | Humanoid Sandbag |
| Origin | China |
| Certifications | ISO 9001 |
| Brand | Union Max |
| MOQ | 50 pieces |
| Price | $33.02-60.87/piece |
| Packing | Woven Bag |
| Material | PU |
| Color | Black or Red |
| Height | 160-180cm |
| Diameter | About 60cm |
| Usage | Boxing Training |