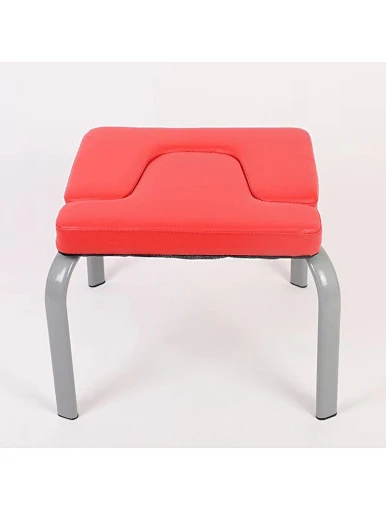 PU Multifunction Handstand Stool Yoga Assist Chair Fitness Equipment
Union Max Fitness manufactures core exercise products including the highest quality Handstand Stool. If you need this product, please feel free to contact us.
Description of Handstand Stool
Handstands have many benefits for the body. Through the inversion of the human body, it can accelerate the venous return in the body, and can effectively prevent the formation of deep vein thrombosis in the lower extremities. The shoulder stand also exercises the strength, flexibility and balance of the shoulder muscles. This handstand is just right to assist you in this exercise, saving space and increasing safety.
Product Features of Handstand Stool
1.PU leather material, comfortable, soft and durable. The texture is delicate, the elasticity is comfortable, the workmanship is meticulous, and it is smooth and thorn-free.
2.Thickened steel pipe, integral molding, dispersing gravity area, strong bearing capacity and stable use.
3.Comfortable without pressing shoulders. Multi-layer elastic sponge, sweat-absorbing and breathable, no pressure on shoulders, making handstand more comfortable.
4.Upgrade the anti-skid and anti-compression silicone foot pad, strengthen the steel pipe to prevent deformation, and make the handstand more secure and stable.
5.Multi-functional auxiliary usage, it can also open the shoulders and expand the chest, plastically open the back, backbend assistance, and meditate.
6.The neck protection design keeps the neck and spine in a straight line and is not easy to damage.
Specifications of Handstand Stool
| | |
| --- | --- |
| Product Name | Handstand Stool |
| Origin | China |
| Certifications | ISO 9001 |
| Brand | Union Max |
| MOQ | 200 pieces |
| Price | $12.38-18.86/piece |
| Packing | Cartons |
| Material | Steel Pipe、PU |
| Color | Red or Black |
| TubeThickness | 1.5mm |
| LoadBearing | 150kg |
| N.W | 5kg |
| Size | 43*42*35cm |
| Applicable | Home, Office, Gym |
| Usage | Yoga Training |