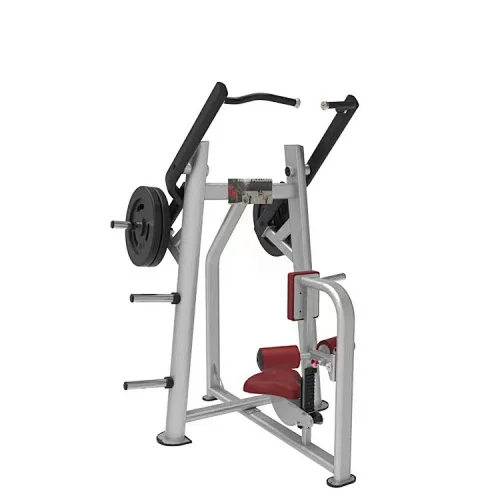 Pull Back Machine
We are a supplier of Pull Back Machines. Please feel free to contact us if you require our products.
Description of Pull Back Machine
Incorporating back exercises into your daily fitness routine is crucial, whether you prefer working out at home or in a commercial gym. Our Front High Back Puller machine is the perfect tool for targeting your back muscles. This innovative exercise device features a fixed wide grip handle that reduces elbow stress and naturally rotates your arms for a more comfortable movement. Additionally, each arm operates independently, giving you the option to work both sides simultaneously or individually. The adjustable seat and chest pad provide optimal support during your workout, ensuring a comfortable fit while you focus on engaging your back muscles. Stay fit and healthy with the Front High Back Puller!
Product Features of Pull Back Machine
1. The pipe of the exercise machine has a thicker structure, which is more stable and safe, as well as wear-resistant and durable.
2. It is equipped with adjustable pendant counterweights according to the needs.
3. The grouped boom has a non-slip grip and both sides of the boom can be used in groups, providing flexible and comfortable operation.
4. The seat is made of leather and can be adjusted easily, while the seat cushion is waterproof and sweat-proof, making it breathable and comfortable for users.
5. This exercise machine is suitable for many people and can be used for professional fitness.
6. There are storage brackets on both sides, where you can store equipment such as bell plates, ensuring everything is kept clean and tidy.
Specifications of Pull Back Machine
| | |
| --- | --- |
| Product Name | Pull Back Machine |
| Origin | China |
| Certifications | ISO 9001 |
| Brand | Union Max |
| MOQ | 1 piece |
| Packing | Cartons |
| Material | Steel |
| Size | 1650*1230*1990mm |
| Color | Grey |
| G.W | 147kg |
| Applicable | Home, Office, Gym |
| Usage | Fitness |