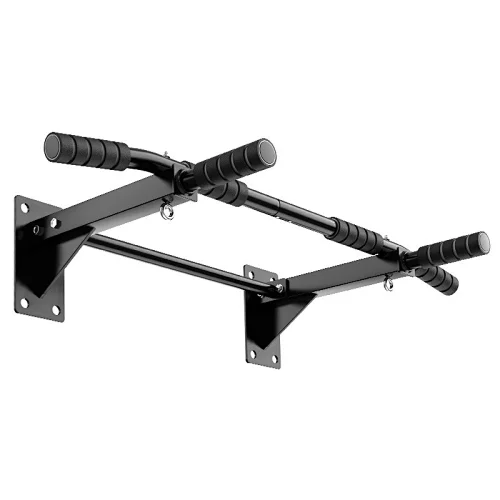 Pull Up Bar With a Horizontal Bar
Pull Up Bar With a Horizontal Bar-1
Union Max Fitness specializes in home workout products including the highest quality Finger Exercise Tool For Guitar. If you need this product, please feel free to contact us.
Description of

 Pull Up Bar With a Horizontal Bar
This horizontal bar on the wall is easy to install and has a reinforced connecting rod, which greatly increases the stability and durability of the equipment, allowing you to open a variety of fitness modes and shape a better yourself.
Product Feature of

 Pull Up Bar With a Horizontal Bar
1. The product size is 94*18*50cm, the diameter of the square tube is 38*1.2mm, and the size of the horizontal bar is 32*1.0mm, which can bear the weight of nearly 200kg and meet the needs of daily use.
2. The innovative hanging ring design can be used to hang other sports props such as drawstrings, sandbags, etc., and the effect of matching other sports and fitness is better.
3. High-quality high-precision foam cotton handle is used, which is comfortable to hold, wear-resistant and non-slip, and has better elasticity.
4. With reinforced connecting rod, four-point support, triangular structure and screw wall, the bearing capacity is more stable.
5. In addition, compared with the ordinary model, the innovative upgrade adds a flat round tube, which is thicker and thicker, and has a stronger bearing capacity.
6. The difference between this one is that the horizontal bar is one piece, not spliced. It is formed in one piece and is more solid.
Specifications of Pull Up Bar With a Horizontal Bar
| | |
| --- | --- |
| Product Name | Pull Up Bar With a Horizontal Bar |
| Origin | China |
| Brand | Union Max |
| Certifications | ISO 9001 |
| MOQ | 2pcs |
| Size | 94*18*50cm |
| Pipe Diameter | 38mm |
| Thickness Of Pipe | 1.2mm |
| Max Loading | ≤200kg |
| Color | Black, White |
| Price | $9.52/piece |
| Packing | Cartons |
| Carton Size | 96*18.5*10.5cm |
| Material | Steel Tube + Sponge |
| Weight | 4kg |
| Usage | Arm Training |
| Application | Home, Gym |
| Department | ‎Unisex-adult |