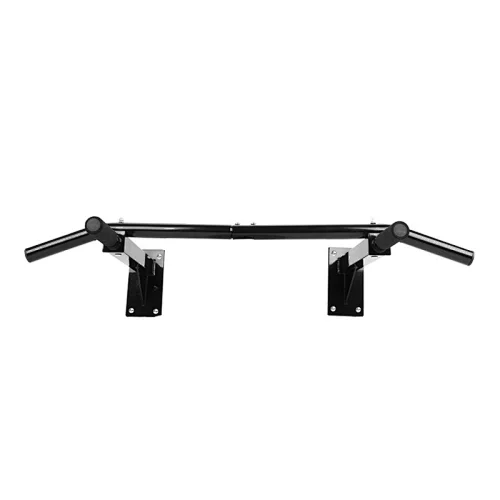 Pull Up Bar
Union Max Fitness specializes in home workout products including the highest quality Pull Up Bar. If you need this product, please feel free to contact us.
Description of

 Pull Up Bar
Details make quality, this product uses a large triangle support for more stability, easier to exercise chest muscles and back muscles. It has a large carrying capacity, is easy to use at home, does not occupy a lot of space, and is simple and convenient to install. It is a fitness equipment built for your personal use.
Product Feature of

 Pull Up Bar
1. This product adopts a three-dimensional triangular structure, the structure is firm and not easy to deform, and the use is safer and more secure.
2. Product size: The product size is 94*18*50cm, the diameter of the square tube is 38*1.2mm, and the size of the horizontal bar is 32*1.0mm,Surface spray treatment to meet the needs of daily use.
3. The material is made of steel pipe + sponge, the surface is sprayed with plastic, and the crossbar is made of a whole rod, which is integrally formed and more stable.
4. The product adopts comfortable handle design, high-density handle cotton cover, soft and comfortable, sweat-absorbing and non-slip.
5. It is designed with rings, which can hang sandbags, drawstrings and other equipment, which is very convenient for daily exercise.
6. Regular use can reduce fat and lose weight, shape your whole body muscles, and can be combined with a variety of different exercise methods.
Specifications of Pull Up Bar
| | |
| --- | --- |
| Product Name | Pull Up Bar |
| Origin | China |
| Brand | Union Max |
| Certifications | ISO 9001 |
| MOQ | 2pcs |
| Size | 94*18*50cm |
| Pipe Diameter | 38mm |
| Thickness Of Pipe | 1.2mm |
| Color | Black, White |
| Price | $7.62/piece |
| Packing | Cartons |
| Carton Size | 96*18.5*10.5cm |
| Material | Steel Tube + Sponge |
| Weight | 3.3kg |
| Usage | Arm Training |
| Application | Home, Gym |
| Department | ‎Unisex-adult |