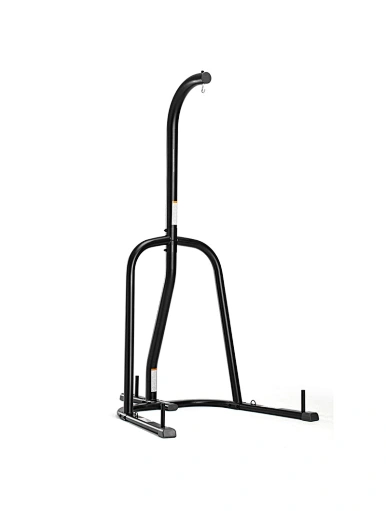 Heavy Bag Stand
We are the supplier of heavy bag stand, please contact us if you need it.
Description of Heavy Bag Stand
The punching bag stand is perfect for solo training or practicing kickboxing, boxing, and similar sports. Punching bag rack can meet the needs of the gym and family. It's not as space-saving as a wall-mounted sandbag rack, but it's a great option for hanging all kinds of sandbags, whether you're installing traditional sandbags or more. Adaptable to trainers of different body types.
Product Features of Heavy Bag Stand
1. Vertical hanger, easy to move and assemble, fully functional, safe, stable, and durable.
2. The steel support tube has a real wall thickness of 1.5mm, which greatly enhances the load-bearing capacity and makes the whole machine more stable.
3. The plastic U-shaped non-slip base widens the floor space, increases the stress area, reduces bumps, protects the floor, and increases stability at the same time.
4.360° lifting ring, easy to disassemble and flexibly rotate.
Specifications of Heavy Bag Stand
Product Name

Heavy Bag Stand

Origin

China

Certifications

ISO 9001

Brand

Union Max

MOQ

200

pieces

Price

$99.05-114.29/piece

Packing

Carton

Material

Steel Pipe

Color

Black

L

oad

B

earing

120kg

N.W

40kg

Thickness

1.5mm

Applicable

Gym or Home

U

sage

Boxing Training