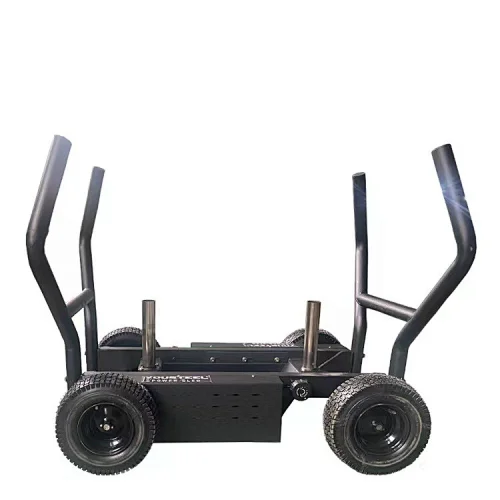 Push Pull Workout Tank Sled
Push Pull Workout Tank Sled-1
If you're looking for a professional factory that produces Push Pull Workout Tank Sleds, look no further than Union Max Fitness. Our high-quality products are designed to meet your fitness needs, and we're committed to providing excellent customer service.
Description of Push Pull Workout Tank Sled
Barbell carts, weight-bearing tank carts, can complete high-efficiency strength training movements and can exercise more than 80% of the muscle groups in the body. This barbell cart can match a variety of sports needs, and all kinds of people can find their exercise intensity, precise control, high quality, and super fat burning.
Product Features of Push Pull Workout Tank Sled
1. The multi-speed dual resistance can be easily adjusted, and it can be matched with weight plates to increase the load to meet various training needs. The resistance is infinitely variable, with precise control, and efficient fat burning.
2. High-quality tires are more durable in terms of materials; automotive-grade tires are more durable in terms of dosage, long service life, and wear resistance.
3. Hard-core configuration, reconstruction of indoor and outdoor fitness experience, commercial-grade upgrade of heavy-duty tank carts.
4. Thicken and thicken the pipe, the material is solid and more stable.
5. A variety of exercise methods to burn fat efficiently and exercise the muscles of the whole body.
6. Breaking the conventional restrictions, it is applicable to a wide range of people and can be used indoors and outdoors.
7. A variety of choices, more matching sports; weights, frames, kettlebells, etc. are optional; there are two styles of single resistance and double resistance.
Specifications of Push Pull Workout Tank Sled
| | |
| --- | --- |
| Product Name | Push Pull Workout Tank Sled |
| Origin | China |
| Certifications | ISO 9001 |
| Brand | Union Max |
| MOQ | piece |
| Packing | Cartons |
| Material | Steel |
| Size | 1220*850*975mm |
| Color | Black |
| Load Bearing | 200kg |
| G.W | 102kg |
| Applicable | Home, Office, Gym |
| Usage | Fitness |