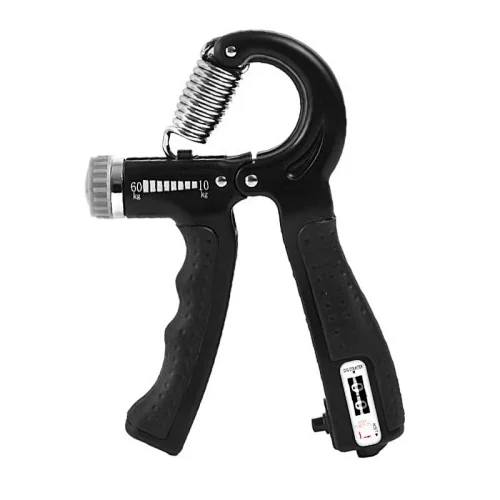 R Type Adjustable Countable Grip
R Type Adjustable Countable Grip-1
Union Max Fitness specializes in home workout products including the highest quality R Type Adjustable Countable Grip with Fabric Cover. If you need this product, please feel free to contact us.
Description of R Type Adjustable Countable Grip
People often overlook the importance of having a strong forearm. Continued use of the grip will increase your forearm muscles, strengthen your hand, and be a good helper for all kinds of sports enthusiasts.
Product Feature of R Type Adjustable Countable Grip
1. This R-type grip strength device adopts an upgraded version of the mechanical counting grip strength device. Each time the button is pressed, the counter can be automatically counted, and the counter can be reset to zero for repeated use.
2. The strength specification is 5-60kg, there are adjustment buttons, and the strength can be freely controlled
3. The handle is made of TPR rubber with good anti-skid effect, soft and comfortable, wear-resistant and not easy to fade
4. The inner core is the heart of the grip. The grip is made of alloy metal, which is sturdy and wear-resistant, has a long service life, and does not deform or rust.
5. The non-slip textured surface is used, which is not easy to fall off, and the comfortable foam does not grind hands.
A variety of colors are available for you to choose from, the monochrome models are black, orange, and blue. The two-tone version is grey-black, blue-grey, and dark blue-light blue.
Specifications of R Type Adjustable Countable Grip
| | |
| --- | --- |
| Product Name | R Type Adjustable Countable Grip |
| Origin | China |
| Brand | Union Max |
| Certifications | ISO 9001 |
| Material | PP+TPR+Metal |
| MOQ | 2pcs |
| Price | $1.33/Piece |
| Size | 16.5*9.5*3cm |
| Weight | 175g |
| Packing | Carton |
| Carton Size | 53.5*24*37cm |
| Color | Red, Blue, Green, Black, Grey |
| Usage | Exercise Muscles |
| Application | Home, Gym, Outdoors |