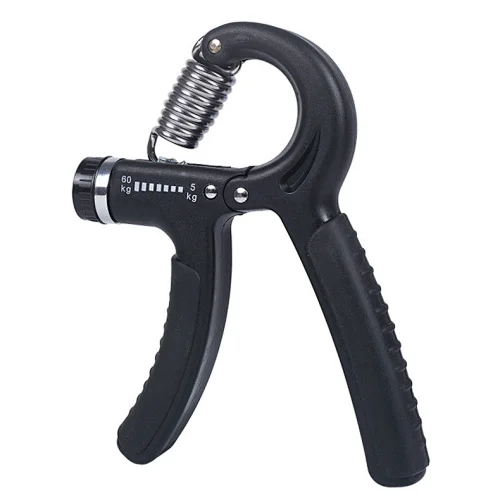 R Type Adjustable Grip
Union Max Fitness specializes in home workout products including the highest quality R Type Adjustable Grip with Fabric Cover. If you need this product, please feel free to contact us.
Description of R Type Adjustable Grip
Exercise and fitness should be easy and effective for you. This grip device can adjust grip strength, exercise arm strength, and nimble fingers. It is a good choice for your fitness and shape, allowing you to exercise easily anytime, anywhere.
Product Feature of R Type Adjustable Grip
1. Small and convenient, carry it with you, it is easy to get the whole people's home fitness, help relieve hand muscles and strengthen finger flexibility.
2. It can exercise wrist strength, arm strength, finger flexibility, modify muscle lines, and shape a perfect figure.
3. Bold carbon steel spring, high-strength resilience, safe and stable, durable.
4. The TPR handle imitates the curved line design of human fingers, which is comfortable and non-slip.
5. The riveted joint is solid and stable, so there is no need to worry about dislocation and bullet injury.
6. The grip strength range is 5-60kg, and the rotation strength adjustment button can increase or decrease the required strength.
Specifications of R Type Adjustable Grip
| | |
| --- | --- |
| Product Name | R Type Adjustable Grip |
| Origin | China |
| Brand | Union Max |
| Certifications | ISO 9001 |
| Material | PP+TPR+Metal |
| MOQ | 2pcs |
| Price | $0.78/Piece |
| Size | 16.8*11cm |
| Weight | 98g |
| Packing | Carton |
| Color | Black, Black+Red, Blue, Orange |
| Usage | Finger Flexibility Exercises |
| Application | Home, Gym, Outdoors |