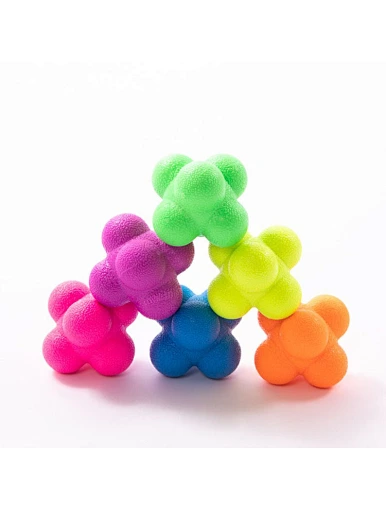 Reaction Ball
We have high-quality, cast-effective reaction ball products and other yoga products, if you need them, please contact us.
Description of Reaction Ball
The reaction ball is also called the agility ball. It has no elasticity and is suitable for muscle fatigue. It can be used for massage training and can improve people's reaction ability. These sports reaction balls can improve your sports response, it is currently on sale, come and buy it.
Product Feature of Reaction Ball
1. Helps to exercise eye-hand coordination, enhance defensive ability, and improve concentration.
2. Made of rubber material, soft and comfortable, rebound from different angles, improving the concentration of the reaction.
3. Easy to carry and small in size, suitable for use in the home, office, gym, outdoor, and other scenarios.
4. TPE corner design, evenly disperse the force brought by the collision. Is the best reaction ball.
Specifications of Reaction Ball
Product Name

Reaction Ball

Origin

China

Brand

Union Max

Certifications

ISO 9001

Material

TPE

MOQ

2

pcs

Price

$

1.05

/Piece

D

iameter

5.5c

m

, 7cm

W

eight

151g

Packing

Carton

Color

Pink, Purple, Black, Orange, Gray, Red, Blue, Green, Etc

Usage

Responsiveness T

raining

Application

Home, Gym, Outdoors