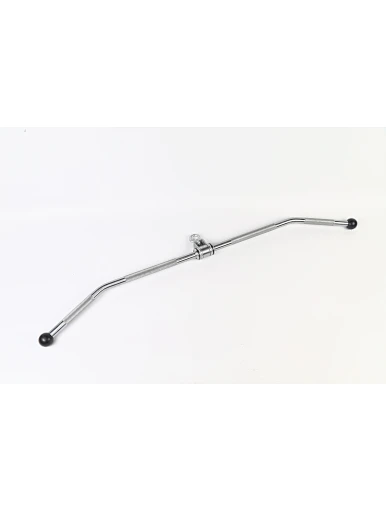 Rotating Lat Bar
Union Max Fitness specializes in the manufacture of gym accessories products including the highest quality Rotating Lat Bar. If you need this product, please feel free to contact us.
Description of Rotating Lat Bar
These two Rotating Lat Bars are equipped with a textured design with non-slip function and are available in 28-inch and 48-inch sizes. This allows the user to hold the handle more stably and comfortably without slipping or falling off. These Cable Attachments also include handles of different shapes, sizes, and materials to meet the needs of different fitness movements. For example, thick handles can be used for heavy-duty tension training, while slender handles are suitable for fine muscle exercises. In addition, these handles can also be easily matched with various fitness equipment, such as pulley blocks, tension machines, multi-purpose training machines, etc., to achieve comprehensive muscle training.
Product Features of Rotating Lat Bar
1. Non-slip texture, not easy to fall off.
2. Different sizes can be selected, suitable for different arm spans.
3. A variety of shapes can be selected to exercise more muscles of the back.
Specifications of Rotating Lat Bar
Product Name

Rotating Lat Bar

Origin

China

Certifications

ISO 9001

MOQ

10 piece

Brand

Union Max Fitness

Net weight

3.6~5.7KG

Price

$40.86~44.37/piece

Color

Silver

Application

Exercise

Material

Steel

Size

750*160mm

1230*200mm

Custom Size & Logo & shape

Please contact us individually for customization