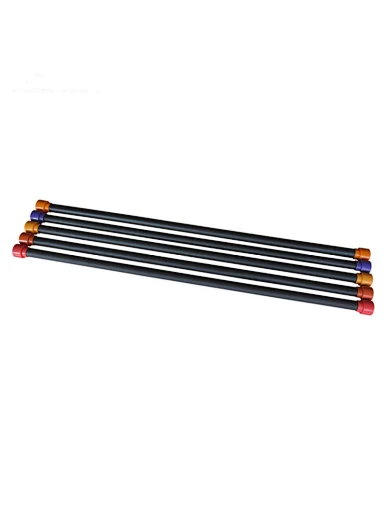 Round Head Light Aerobic Weight Bar
Union Max Fitness specialize in barbell bars including Round Head Light Aerobic Weight Bar of the highest quality. If you require this product, please do not hesitate to reach out to us.
Description of

 Round Head Light Aerobic Weight Bar
Cardio bars are self-contained weight bars that make a great addition to your workout routine whether you want to work your arms, legs or core. The core of the high-quality rod is made of high-quality iron and wrapped with soft PU foam, which is more comfortable to hold, non-slip and sweat-wicking.
Product Features of

 Round Head Light Aerobic Weight Bar
1. This gymnastic stick is available in 10 sizes from 1kg to 10kg (in 1kg increments).
2. Excellent material, made of high-quality iron material, durable and fall-resistant, strong and strong.
3. The colorful PU foam sleeves are fixed at both ends without hurting hands, and the appearance is fashionable.
4. Both ends of each gymnastic stick are weight-coded and color-coded for quick access.
5. Raise it overhead to strengthen your shoulders and biceps; keep it at chest level to increase the difficulty of crunches; as you step forward, engage your biceps by using it to make your 6. Lunges are more difficult.
7. Sold individually or in pieces.
8. Paper tube and wooden box packaging, packaging needs to be charged separately, you can consult us about the packaging fee at any time.
Specifications of

 Round Head Light Aerobic Weight Bar
| | |
| --- | --- |
| Product Name | Round Head Light Aerobic Weight Bar |
| Origin | China |
| Certifications | ISO 9001 |
| MOQ | 100 pieces |
| Price | $17.95-25.85/piece |
| Packing | Paper Tube and Wooden Box |
| Usage | For Fitness Activities |
| Application | Gym and your home |
| Type | Round Head |
| Material | Pu+Iron |
| Size | 1kg to 10kg (in 1kg increments) |
| Length | 1.22m |
| Diameter | 30mm |
| Color | Red, yellow, blue, gray, purple |
| Sales model | Sold individually or in pieces |