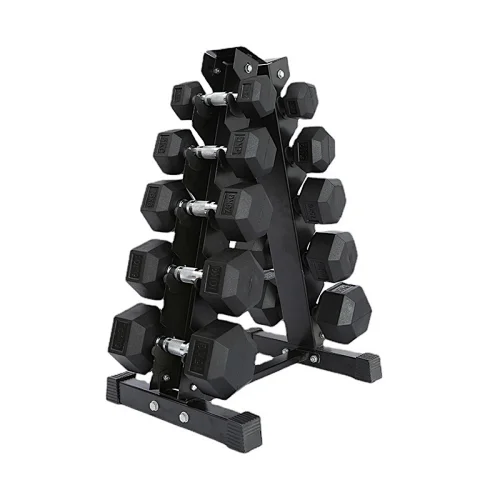 Rubber Hex Dumbbell Set With Rack - 80kg
Rubber Hex Dumbbell Set With Rack
Union Max Fitness is offering an 80kg Rubber Hex Dumbbell Set with Rack for sale. Our 10+ years of export experience ensures you get the highest quality weightlifting equipment. Buy now to get the best deals and discounts.
Description of Rubber Hex Dumbbell Set With Rack
80kg Rubber Hex Dumbbell Set provides the ability to target specific muscle groups or perform full-body exercises. Perfect for functional workouts, HIIT workouts, and strength training routines.
Product Features of Rubber Hex Dumbbell Set With Rack
1.80kg Rubber Hex Dumbbell Set includes One pair each of 2.5kg, 5kg, 7.5kg, 10kg, and 15kg rubber hex dumbbells with a black A-frame dumbbell rack to store them.
2.For a space-saving design, the rack's A-frame design maximizes floor space by storing dumbbells in an"A"shape or vertically, making it easy to reach and store dumbbells.
3.Durable and reliable, the storage rack is made of high-quality steel and finished with a durable black powder coating.
4.The hexagonal head resists rolling, the medium-depth knurling on the handle provides the necessary grip and safety during use, and the rubberized coating is a durable and impact-resistant finish.
5.Sold as a set, the package includes five pairs of hexagonal rubber dumbbells and an A-shaped storage rack.
6.Conventional carton packaging can also choose pallet packaging.
Specifications of Rubber Hex Dumbbell Set With Rack
| | |
| --- | --- |
| Product Name | Rubber Hex Dumbbell Set With Rack - 80kg |
| Origin | China |
| Certifications | ISO 9001 |
| MOQ | 50 sets |
| Price | $122.15-142.65/set |
| Packing | Carton |
| Usage | Build muscle |
| Application | Gym and your home |
| Type | Hexagon |
| Dumbbell Material | Iron and Rubber Coating |
| RackMaterial | Iron with Matte Finish |
| Dumbbell Size | One pair each of 2.5kg, 5kg, 7.5kg, 10kg and 15kg |
| Color | Black |