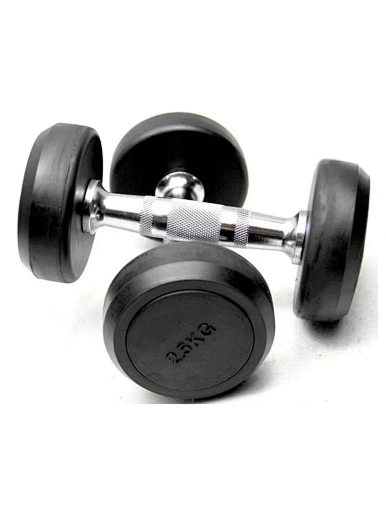 Rubber Round Dumbbell
Looking for a rubber dumbbell for your gym? Check out our selection of rubber round dumbbells. From light to heavy, we have a variety of dumbbells that are perfect for your home or commercial gym. Shop now and get great deals on high-quality dumbbells.
Description of Rubber Round Dumbbell
The Black Rubber Round Dumbbell is an ideal fitness equipment for use in the gym, office, or at home. It comes in twelve specifications, ranging from 2.5kg to 30kg, so that you can choose the weight that best suits your needs. This practical free weight is perfect for your workout routine and can help you reach your fitness goals.
Product Features of Rubber Round Dumbbell
1. The Black Round Rubber Bumper Dumbbell has twelve specifications: 2.5kg, 5kg, 7.5kg, 10kg, 12.5kg, 15kg, 17.5kg, 20kg, 22.5kg, 25kg, 27.5kg, 30kg.
2. The material of this product is high quality steel and rubber casing.
3. High-quality rubber encased, minimize noise, floor damage, and wear and tear on the plates themselves.
4. The raised number design makes each dumbbell easy to identify by weight.
5. Each handle of this dumbbell is knurled to ensure you have a firmer grip during use.
6. You can buy them individually, in pairs, or as a set, and you can mix and match any size to suit your needs.
7. Conventional carton packaging can also choose pallet packaging.
Specifications of Rubber Round Dumbbell
Product Name

Black Rubber Round Dumbbell

Origin

China

Manufacturer
Union Max Fitness

Certifications

ISO 9001

MOQ

500kg

Price

$1.75-2.15/kg

Packing

C

arton

Usage

Build muscle

Application

G

ym and your home

Type

Round dumbbell

Material

Steel and Rubber Coating

Size

2.5kg, 5kg, 7.5kg, 10kg, 12.5kg, 15kg, 17.5kg, 20kg, 22.5kg, 25kg, 27.5kg, 30kg.

Color

Black