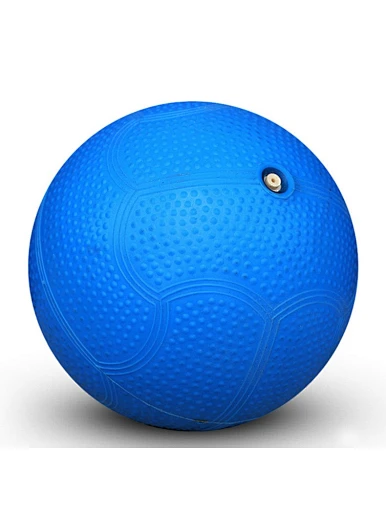 Rubber Shot Put Ball
Union Max Fitness specializes in sports training products including the highest quality Rubber Shot Put Ball. If you need this product, please feel free to contact us.
Description of R

ubber Shot Put Ball
Rubber shot put is a kind of sports equipment used in shot put. It is a round ball made of rubber material and is available in different weights depending on the category and gender of the athlete using it. Features a textured surface for enhanced grip and more control and spin. The textured surface also helps absorb sweat from the athlete's hands, reducing the risk of slipping during throws. Rubber shot puts are safer than metal shot puts because they won't do as much damage if you accidentally hit someone. Therefore, they are often used for training and beginner competitions. They are also more affordable and durable than metal balls.
Product Features of R

ubber Shot Put Ball
1. Select high-quality non-slip particles, feel comfortable, and the ball is comfortable and easy to learn.
2. Built-in quartz sand to increase the weight of the product. The sand is fine and soft. After inflated, it will cushion the ground and increase the service life of the shot.
3. It adopts a new type of rubber wear-resistant ball skin, and the surface is designed with anti-skid particles, which is easy to grasp and not let go, so as to achieve effective training accuracy.
4. The new concave ball nozzle design is waterproof and leak-proof, and the inflation operation is simple and convenient.
5. Soft and safe, not easy to hurt people.
Specifications of

R

ubber Shot Put Ball
| | |
| --- | --- |
| Product Name | Rubber Shot Put Ball |
| Origin | China |
| Certifications | ISO 9001 |
| Brand | Union Max |
| MOQ | 100 pieces |
| Price | $1.03-2.06/piece |
| Packing | Carton |
| Material | Rubber |
| Color | Orange/Blue |
| Specification | 1/1.5/2kg |
| Usage | Physical Training |