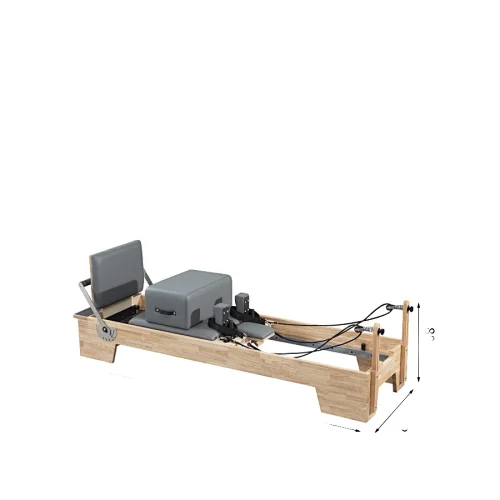 Rubberwood Pilates Reformer
Rubberwood Pilates Reformer-1
Union Max Fitness specializes in the manufacture of Yoga and Pilates products including the highest quality Rubberwood Pilates Reformer. If you need this product, please feel free to contact us.
Description of Pilates Reformer
Rubber wood model: Thai rubber wood + high rebound spring + full skateboard + comfortable full leather + strong and durable drawstring + aluminum-magnesium alloy guide rail + log leather baffle + five springs two-gear adjustment + pulley bearing + stainless steel accessories
Accessories: with square box, large pedals, small pedals, consumables - springs.
What is a Pilates Reformer?
Pilates Reformer is the most widely used special equipment in Pilates training. It uses skateboards, springs, cables, ropes and other structures to maximize the training effect of practitioners and reduce sports injuries. Pilates Reformer is also a kind of reorganization trainer. There are hundreds of exercises in the reorganization trainer, which are all evolved from Pilates on the mat, emphasizing the coordination of movements and breathing, the accuracy of movements, and the smoothness of movements, etc. Wait. The reorganization trainer increases the range of motion, coupled with the instability of the spring, which has a stronger exercise effect on the control ability of the human body and the stability of the trunk.
Specifications of Pilates Reformer
| | |
| --- | --- |
| Product Name | Pilates Reformer |
| Features | Robust, versatile, cost-effective and long-lasting |
| Origin | China |
| Certifications | ISO 9001 |
| MOQ | 1piece |
| Brand | Union Max Fitness |
| Price | $447.6-704.76/piece |
| Leather color | White/black/gray |
| Usage | Pilates exercise |
| Product size | 2400*810*210mm |
| packaging size | 2470*840*430mm |
| Custom Size & Logo & shape | Please contact us individually for customization |