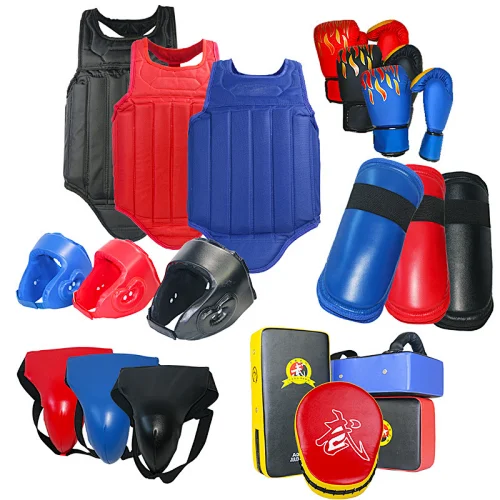 Sanda Protective Gear Set
Sanda Protective Gear Set-1
Union Max Fitness specializes in boxing training products including the highest quality Sanda Protective Gear Set. If you need this product, please feel free to contact us.
Description of Sanda Protective Gear Set
The primary function of protective gear in sports is to increase joint stability and protect joints and muscles during intense or high-impact movements. This sanda protective gear set includes various products such as chest protectors, headgear, knee pads, and more, which can be mixed and matched based on individual needs.
Specifications of Sanda Protective Gear Set
1.The chest protector is made of high-quality Oxford fabric with thickened, wear-resistant, and non-slip properties. The excellent quality is further enhanced by the thickened bamboo board design, which increases impact resistance.
2.The headgear uses thickened, anti-explosion PU leather, which provides good shaping effects, high elasticity, and is not easily deformed.
3.The overall design conforms to ergonomics, with excellent edges that do not constrict or hinder body movements, allowing for flexible limb movement without affecting performance.
4.The boxing gloves adopt thickened punching peaks, which improve buffering performance and can withstand strong punches.
Specifications of Sanda Protective Gear Set
| | |
| --- | --- |
| Product Name | Sanda Protective Gear Set |
| Origin | China |
| Certifications | ISO 9001 |
| Brand | Union Max |
| MOQ | 20 set |
| Price | $11.35-39.00/set |
| Packing | cartons |
| Material | PU |
| Color | Black,Red and Blue |
| Size | S/M/L/XL |
| Specification | 5-piece set, 6-piece set, 7-piece set, 8-piece set |
| Usage | Boxing Training |