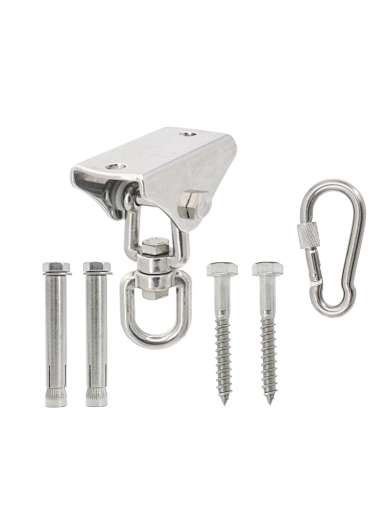 Rotatable Sandbag Fixing Plate
We can provide high-quality rotatable sandbag fixing Plate, if you need, you can contact us.
Description of Rotatable Sandbag Fixing Plate
This sandbag fixing plate is suitable for any indoor and outdoor playground swings and various suspension equipment, the most prominent feature of this model is that it can rotate 360°, swing freely, innovative design, wider range of use, is safe and reliable, heavy-duty commercial quality, Suitable for children and adults; easy to install, just punch two holes in the installation.
Product Features of Rotatable Sandbag Fixing Plate
1. The whole set of products is made of stainless steel, which is outdoor anti-corrosion and anti-rust, high-strength and load-bearing, safe and reliable, and has a long service life.
2. After polishing, the surface is smooth and burr-free, the screw and gasket are designed in one piece, and the plate is stamped, which is beautiful and elegant.
3. Wear-resistant pads on both sides protect against direct friction.
4. Nylon lock nut locks for safety.
5. Rotatable sandbag tray can swing back and forth 360 degrees, and the structure is stable.
Specifications of Rotatable Sandbag Fixing Plate
Product Name

Rotatable Sandbag Fixing Plate

Origin

China

Certifications

ISO 9001

Brand

Union Max

MOQ

30 pieces

Price

$3.43-4.57/piece

Packing

Carton

Material

Stainless Steel

P

roduct

W

eight

400g

Color

G

rey and

W

hite

L

oad

B

earing

300kg

Size

9*4cm

Applicable

Home, Office, Gym

Usage

Boxing Training