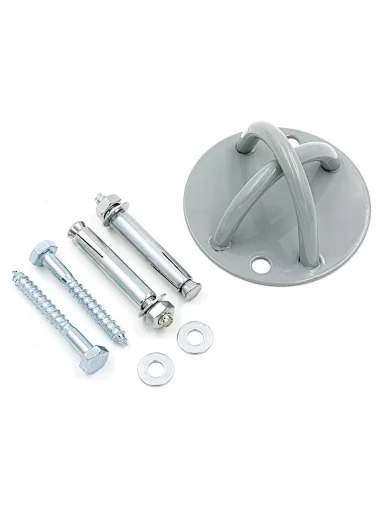 Round Sandbag Fixing Plate
We can provide high-quality round sandbag fixing Plate, if you need, you can contact us.
Description of Round Sandbag Fixing Plate
This sandbag tray is a round stainless steel swing plate accessory. It can be installed vertically on ceilings, safe house beams, or horizontally on walls. Wide range of use, suitable for most objects, such as indoor and outdoor sandbags, swings, hammocks, etc.
Product Features of Round Sandbag Fixing Plate
1. The texture is safe and mild, strong and durable, and has a strong bearing capacity. It can be well used for hanging hammocks and punching bags.
2. Great detailing and a well-made hanging hook kit that is beautiful and durable.
3. Made of high-strength stainless steel, lightweight, with good structure, and long service life.
4. The sandbag fixing plate is divided into two holes as well as four holes for durability and stability for children and adults, with expansion screws.
Specifications of Round Sandbag Fixing Plate
Product Name

Round Sandbag Fixing Plate

Origin

China

Certifications

ISO 9001

Brand

Union Max

MOQ

10 pieces

Price

$2.00-3.81/piece

Packing

Carton

Material

Stainless Steel

P

roduct

W

eight

750g

Specification

4 holes and 2 holes

Color

G

rey and

W

hite

L

oad

B

earing

300kg

Size

7-7.5cm

Applicable

Home, Office, Gym

Usage

Boxing Training