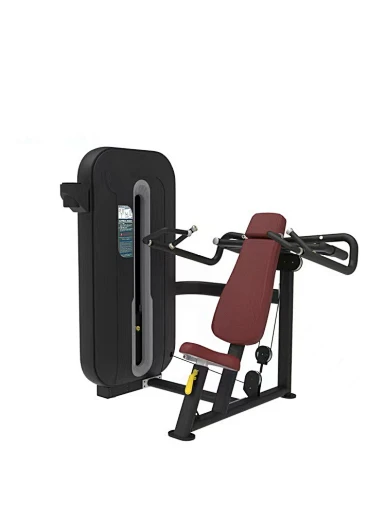 Shoulder Press Machine
If you are looking for a manufacturer of Shoulder Press Machines, Union Max Fitness is the solution. Our company specializes in producing high-quality fitness equipment and we welcome you to reach out to us for more information. Thank you for considering Union Max Fitness as your supplier.
Description of Shoulder Press Machine
The most typical action of shoulder exercise is the sitting shoulder push, which can effectively improve the feeling of the chest muscles and improve the strength of the shoulder joint, elbow joint, and wrist joint, which is indispensable for the seated shoulder trainer. This seated shoulder trainer is ergonomically designed, fits the back curve well, and improves comfort during exercise; with a non-slip grip, there is enough friction between the trainer's palm and the trainer, The anti-skid effect is excellent, and the safety is increased. The design of national standard commercial steel pipe fully meets the standard of a commercial gym.
Product Features of Shoulder Press Machine
1. The seamless welding process ensures a stable connection between the steel pipes.
2. Commercial steel pipe bracket, thick and thick pipe, strong and durable.
3. Sports thickened leather seat cushion, high resilience leather foam material, waterproof and sweat-proof, comfortable and breathable, anti-friction, to ensure that the seat cushion will never be deformed.
4. Using non-slip grips, special training handles, feel more comfortable and easier to exercise; protect your safety while you are exercising.
5. The bottom of the instrument is designed with high-quality professional commercial pulleys, which are wear-resistant and durable, and are used smoothly.
6. The solid metal counterweight is used, which can be adjusted arbitrarily according to your own situation; the counterweight is adjusted by plugging and plugging, which is simple and convenient, and makes the exercise more scientific, safe and comfortable.
Specifications of Shoulder Press Machine
| | |
| --- | --- |
| Product Name | Shoulder Press Machine |
| Origin | China |
| Certifications | ISO 9001 |
| Brand | Union Max |
| MOQ | 1 Piece |
| Price | $780.76-952.19/Piece |
| Packing | Cartons |
| Material | Steel |
| Size | 1600*1470*1630mm |
| Color | Black |
| G.W | 268kg |
| Applicable | Home, Office, Gym |
| Usage | Fitness |