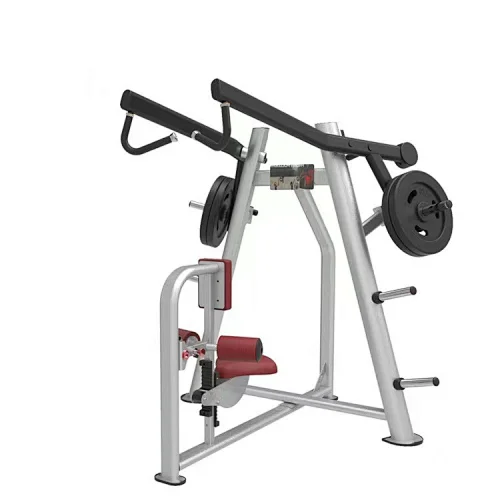 Signature Series Plate Loaded High Row
Signature Series Plate Loaded High Row-1
We are a professional manufacturer of Signature Series Plate Loaded High Row. If you need our products, please don't hesitate to contact us.
Description of Signature Series Plate Loaded High Row
The movement trajectory of the rowing high back-pulling machine is exactly the opposite of the incline chest pushing movement. The split-action exercise gives the user a high-efficiency strength exercise, which is its uniqueness. While focusing on muscle training, the device pays more attention to trajectory training to stimulate multiple muscle groups, achieve whole-body muscle training, and produce effective changes. You can freely adjust the weight according to your own situation, and carry out targeted training in a safe and controllable situation.
Product Features of Signature Series Plate Loaded High Row
1. Thickened pipes, solid materials; oval steel pipes, thick and thick pipes, fashionable and beautiful appearance, sturdy and durable, and strong bearing capacity.
2. Selected thick steel pipe, strong and durable, with a non-slip grip, scientific design, and comfortable experience.
3. The hanging piece weight is flexible and can be reasonably weighted according to the actual situation during training.
4. The surface is made of high-quality PU leather material, which is tear-resistant; the interior is filled with one-time molded soft foam, which is breathable, skin-friendly, and more comfortable.
5. Using advanced seamless welding technology, it is beautiful and durable.
6. The bottom is equipped with a non-slip rubber bottom pad design, which increases the force-bearing area of the device and enhances stability without hurting the floor.
7. Colors can be customized according to the different requirements of customers.
Specifications of Signature Series Plate Loaded High Row
| | |
| --- | --- |
| Product Name | Signature Series Plate Loaded High Row |
| Origin | China |
| Certifications | ISO 9001 |
| Brand | Union Max |
| MOQ | 1 piece |
| Packing | Cartons |
| Material | Steel |
| Size | 1860*1680*1920mm |
| Color | Black |
| G.W | 135kg |
| Applicable | Home, Office, Gym |
| Usage | Fitness |