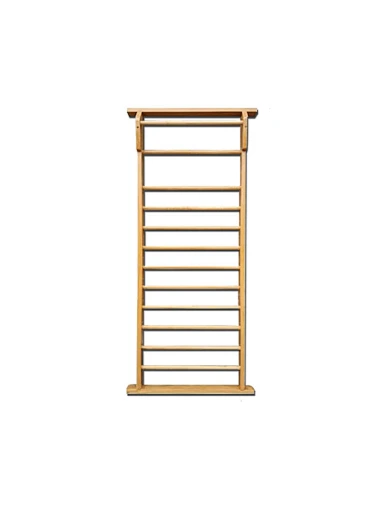 Single Rehabilitation Wall Bars
Single Rehabilitation Wall Bars-1
Union Max Fitness specializes in home workout products including the highest quality Single Rehabilitation Wall Bars. If you need this product, please feel free to contact us.
Description of

 

Single Rehabilitation Wall Bars
Whether you're a beginner or an advanced fitness enthusiast, our Single Rehabilitation Wall Bars is perfect for strengthening your shoulder, back, and abdominal muscles, while also providing a range of additional benefits for your body.
Product Feature of

 

Single Rehabilitation Wall Bars
1.Achieve your fitness goals with our Single Rehabilitation Wall Bars, made from high-quality pine.
2.Suitable for indoor pull-ups, shoulder exercises, and leg press ribs, making it an essential piece of fitness equipment for any gym, yoga studio or rehab facility.
3.Ideal for users in sports medicine clinics, physical therapy clinics, hospitals and fitness centers to perform shoulder range-of-motion exercises in either sitting or standing position.
4.The top bar is designed for pull-ups and pull-ups, while the rungs below provide a stable hand grip for other exercises.
5.This versatile equipment is perfect for preventing injury, correcting posture and improving body alignment, making it a great choice for rehab and pre-rehab exercises.
6.Widely used in gyms and schools, it is perfect for developing coordination skills in primary education.
7.With its sturdy construction and adjustable height, gymnasts can also use it for resistance training, flexibility training, and abdominal exercises.
Specifications of Single Rehabilitation Wall Bars
| | |
| --- | --- |
| Product Name | Single Rehabilitation Wall Bars |
| Origin | China |
| Brand | Union Max |
| Certifications | ISO 9001 |
| Material | Pine |
| MOQ | 40pcs |
| Price | $107.3/Piece |
| Size | 2.8*0.9m |
| Weight | 28kg |
| Packing | Carton |
| Color | Burlywood |
| Usage | Arm Exercise |
| Application | Home, Gym, Outdoors |