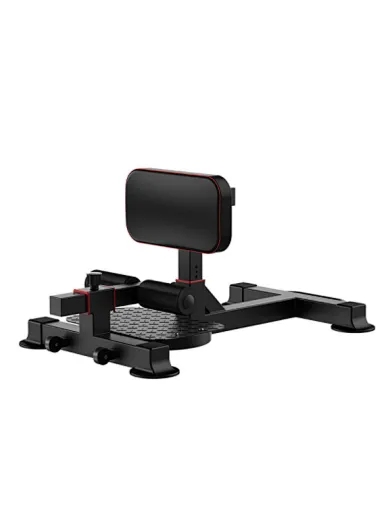 Sissy Squat Machine
If you are in need of a high-quality sissy squat machine, look no further than Union Max Fitness. Contact us today to learn more.
Description of Sissy Squat Machine
A sissy squat machine is a great piece of fitness equipment that can help to strengthen the muscles of the thighs, buttocks, calves, and lower back. This adjustable bench is designed to target these four areas, while also working to strengthen the knees and hips and train the core for better balance and stability. With its adjustable height feature, this home sissy squat machine can be used in comfort and safety, making it suitable for a range of sports and activities.
Product Features of Sissy Squat Machine
1. The upgraded disc-shaped foot cover has an increased contact area with the ground, providing better grip and stability.
2. The main frame pipe has been thickened to 50*50*1.2mm square pipe, increasing its strength and bearing capacity.
3. PU leather cushioning makes it comfortable and breathable, while also preventing sweating and slipping.
4. With multiple speed adjustments, you can customize the intensity of your workouts.
5. It features a willow leaf pattern pedal design for enhanced safety. 6. With its roller design, it is easy to move and store without taking up too much space.
Specifications of Sissy Squat Machine
| | |
| --- | --- |
| Product Name | Sissy Squat Machine |
| Origin | China |
| Certifications | ISO 9001 |
| Brand | Union Max |
| MOQ | 300 pieces |
| Price | $38.10-45.33/piece |
| Packing | Cartons |
| Material | Steel Pipe |
| Color | Black |
| Size | 100*52*38.5-46cm |
| Tube Thickness | 1.2mm |
| Load Bearing | 150kg |
| Applicable | Gym,Home,Office |