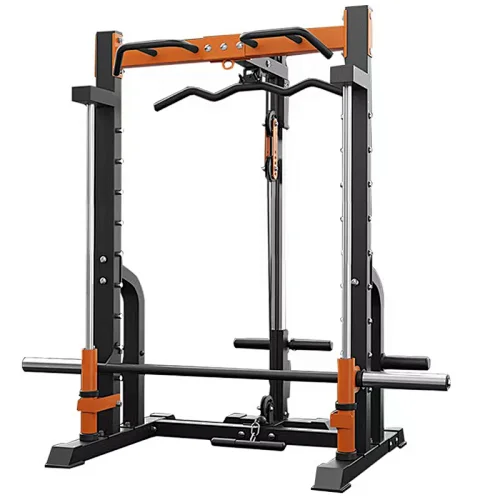 Smith Machine
If you are in need of Smith Machines, don't hesitate to contact Union Max Fitness, a professional factory specializing in their production.
Description of Smith Machine
This Smith machine squat rack is a versatile piece of equipment that is perfect for home gyms with limited space. It may not provide as many exercises as larger commercial machines, but it is capable of working out various body parts. The machine features a sturdy tripod stand that enhances its stability during use, and its compact design makes it an essential household appliance. Safety is also a top priority, and the structure of the machine is reinforced to ensure user safety during intense workouts. With this Smith machine, you can exercise in the comfort of your home and achieve your fitness goals.
Product Features of Smith Machine
1. The frame is constructed from 1.8mm thickened pipe which can support high levels of weight-bearing, up to 700kg.
2. You'll have plenty of exercise options available thanks to the idle barbell plate suspension bar, sandbag hanging ring, barbell Olympic bar, suspension belt, abdominal muscle battle rope, parallel bar, shock absorber and other devices.
3. The detachable parallel bar function, solid round bar plated with hard chrome material and non-scratch coating offer excellent durability and wear resistance.
4. Enjoy multi-speed adjustment with the triangular bracket structure for added safety and the multi-angle adjustable lying board to target different muscle groups.
5. The straight optical axis ensures a smooth and fluid movement that won't get stuck, while offering longevity and durability.
6. Stay safe while training with the addition of a limiting device that prevents accidents and injuries caused by barbell slippage.
Specifications of Smith Machine
| | |
| --- | --- |
| Product Name | Smith Machine |
| Origin | China |
| Certifications | ISO 9001 |
| Brand | Union Max |
| MOQ | 1 piece |
| Packing | Cartons |
| Material | Steel |
| G.W | 106kg |
| Color | Black |
| Load Bearing | 700kg |
| Size | 1830*1196*2147mm |
| Tube Thickness | 1.8mm |
| Applicable | Home, Office, Gym |
| Usage | Fitness |