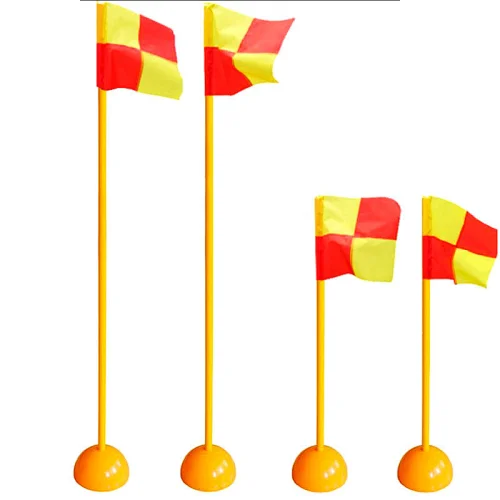 Soccer Corner Flag Flag Pole
Soccer Corner Flag Flag Pole-1
Union Max Fitness specializes in sports training products including the highest quality Soccer Corner Flag Flag Pole. If you need this product, please feel free to contact us.
Description of Soccer Corner Flag Flag Pole
Soccer corner flag flag pole is a must-have for marking corner kicks on football fields. It consists of a tall, thin rod, located at each corner of the court, and is used to indicate the corner from which a corner kick is taken. It also helps players and officials determine the boundaries of the field during games. Designed to be lightweight and easy to transport, the pole can be easily removed and stored when not in use. In general, the football corner flag pole is the necessary equipment to ensure the smooth progress of the football game.
Product Features of Soccer Corner Flag Flag Pole
1. It adopts fluorescent waterproof cloth with bright colors, which is suitable for use in the open air and under changing weather conditions.
2. Made of PVC material, good toughness, smooth hand feeling, not easy to deform, wear-resistant and can be used repeatedly.
3. The bottom can be filled with water or sand, and the reinforced chassis is stable, which can be taken out at any time and is easy to carry; it can also be matched with a grounded base, which is durable and not easy to tilt.
4. High-quality environmentally friendly materials, safe and non-toxic, no fading.
5. Integral molding, the inside and outside are the same, and the quality is guaranteed.
Specifications of

Soccer Corner Flag Flag Pole
| | |
| --- | --- |
| Product Name | Soccer Corner Flag Flag Pole |
| Origin | China |
| Certifications | ISO 9001 |
| Brand | Union Max |
| MOQ | 100 sets |
| Price | $2.06-10.32/set |
| Packing | Carton |
| Material | PVC+Nylon |
| Size | 100cm/150cm |
| Color | Yellow/Red and White |
| Usage | Physical Training |