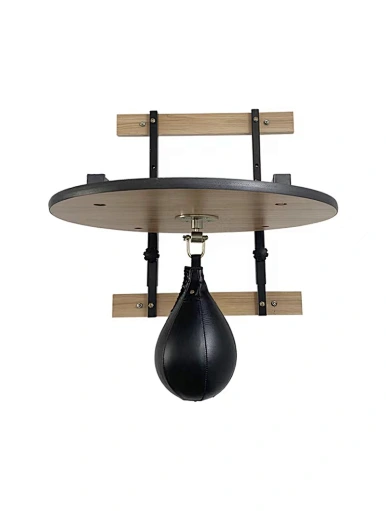 Speed Bag Platform
We have a high-quality Speed Bag Platform, if you need it, please contact us.
Description of Speed Bag Platform
A boxing speed ball is one of the auxiliary equipment for boxing practice. It has a great effect on cultivating athletes' attention and reaction speed. Of course, this sports equipment is indispensable to the boxing speed bag platform, which can be fixed on the wall. you can practice boxing anytime, anywhere. Everlast speed bag platform is a good choice to facilitate training while greatly reducing the space occupancy rate.
Product Features of Speed Bag Platform 
1. The thickened square steel plate is used, which is safe, firm, and not easy to deform, with stronger load-bearing capacity, and can effectively prevent the steel plate from breaking.
2. Adopt adjustable human nature design, flexibly adjust the height about 0-20cm; easy to use and practice, suitable for all kinds of people.
3. Thickened wooden board, strong and reliable, more durable, obvious rebound, small resonance, strong rebound sound; there are solid wood and compression board points.
4. Equipped with a 360°spinner, the rotation is flexible and more convenient, and sensitive.
5. Wall-mounted speed ball rack, easy installation, fast fitness.
6. Ancillary products: pear-shaped speed ball, pump, ball needle.
Specifications of Speed Bag Platform
Product Name

Speed Bag Platform

Origin

China

Certifications

ISO 9001

Brand

Union Max

MOQ

10

pieces

Price

$36.19-74.29/piece

Packing

Carton

Material

Solid wood,

C

ompressed board

Color

Black and Wood Color

N.W

10kg

Thickness

2.5-3mm

Applicable

Gym or Home

U

sage

Boxing Training