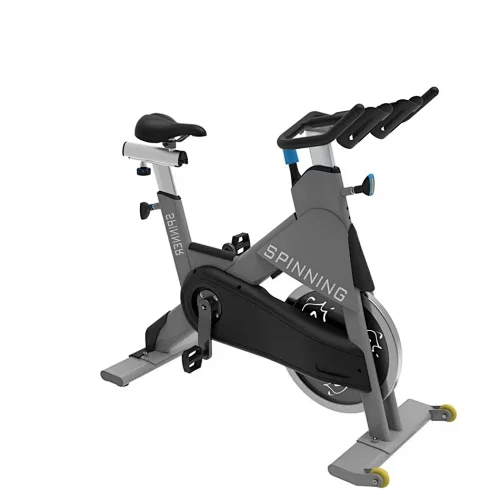 Spin Bike For Heavy Person
Union Max Fitness is a manufacturer of spinning bikes. We can customize any kind of spinning bike to meet your specific needs. Contact us for more information.
Description of Spin Bike
This spinning bike is designed with industrial aesthetics, featuring sleek lines and stylish design. It also offers multiple advantages in terms of functionality to suit the lifestyle of the consumers and meet the need of public sports. Ergonomically designed, the fixed gear and peripheral-weighted freewheel provide a road-like tube and resistance for a stable and smooth pedaling experience. The handle and seat cushion can be adjusted up and down, allowing you to do high-quality aerobic exercise at home with high efficiency fat-burning without going out. With the press and stop feature, exercising is made safer.
Product Features of Spin Bike For Heavy Person
1. Triangular stable structure, with reinforced pipes and a load capacity of up to 150kg, allows for various riding challenges.
2. Ergonomically designed adjustable seat and handle for comfortable riding for riders of all sizes; steel crankshaft for powerful riders.
3. Variety of riding postures for an enjoyable riding experience without limitation.
4. Pre-painted and powder-coated frame materials for long-lasting sweat and moisture resistance, no paint peeling and long service life.
5. All-inclusive mute chain cover design for silent transmission and no disturbance.
6. Comfortable, non-slip and adjustable pedals; mobile roller design, easy to move and labor-saving, using soft PU material, does not hurt the floor.
Specifications of Spin Bike For Heavy Person
| | |
| --- | --- |
| Product Name | Spin Bike For Heavy Person |
| Origin | China |
| Certifications | ISO 9001 |
| Brand | Union Max |
| MOQ | 1 set |
| Price | $291.43-339.05/set |
| Packing | Cartons |
| Material | Steel |
| Size | 1150*600*1150mm |
| Color | Black |
| G.W | 75kg |
| Applicable | Home, Office, Gym |
| Usage | Fitness |