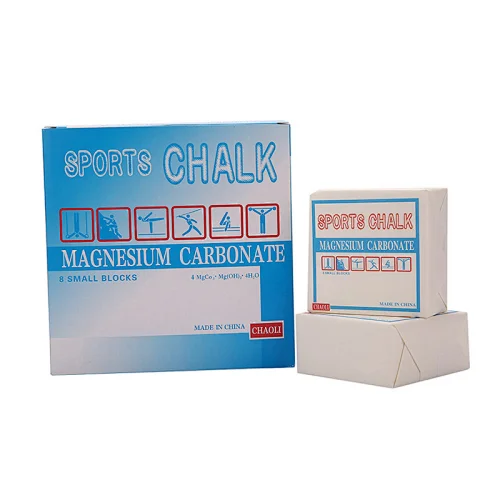 Sports Chalk Block
Union Max Fitness specialize in strength training product accessories, including Sports Chalk Block of the highest quality. If you require this product, please do not hesitate to reach out to us.
Description of

 Sports Chalk Block
This non-pigmented, non-toxic Sports Chalk Block keeps hands dry, preventing blisters and calluses, while reducing slippage during workouts. It improves grip and feel, making it ideal for gymnastics, rock climbing, and all strength and weightlifting exercises, including deadlifts, pull-ups, kettlebells, barbells, and more.
Product Features of

 Sports Chalk Block
1. This Sports Chalk Block has two specifications, GX and LX, GX: very dry and non-slip, used for professional competition; LX: dry and non-slip good, can be used for daily training.
2. Each box is about 550g, and each contains 8 small pieces.
3. It absorbs and removes moisture, keeping hands dry and less slippery during exercise, allowing you to lift weights or rock with confidence for longer.
4. 
This Sports Chalk Block contains 8 small pieces that can be easily disassembled for easy use, feels super grippy and also great for other grip intensive activities such as in yoga It keeps your mat dry for excellent results of grip.
5. Sold in boxes of 36 boxes.
6. Conventional carton packaging.
Specifications of

 Sports Chalk Block
| | |
| --- | --- |
| Product Name | Sports Chalk Block |
| Origin | China |
| Certifications | ISO 9001 |
| MOQ | 360 pieces |
| Price | $6.25-16.45/piece |
| Packing | Carton |
| Usage | Increase Friction |
| Application | Gym and your home |
| Material | Magnesium Carbonate |
| Size | 550g |
| Color | White |
| Sales model | Sold in boxes |