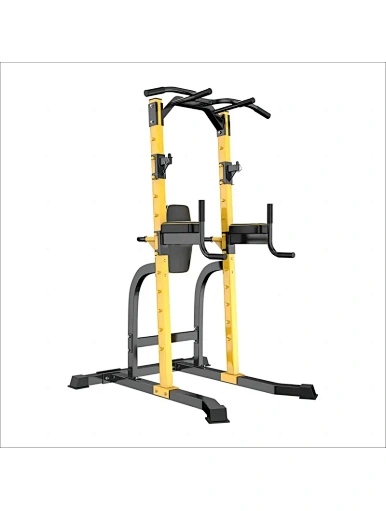 Squat Rack with Pull Up Bar
Squat Rack with Pull Up Bar-1
Union Max Fitness is a factory that specializes in producing Squat Racks with Pull Up Bars. If you have a need for our products, please do not hesitate to contact us.
Description of Squat Rack with Pull Up Bar
This product is a multi-functional sports equipment suitable for different user groups. It is made of high-quality 50*50*1.2mm steel, which ensures a solid and sturdy structure. Its novel design offers a variety of functions, making it suitable for various types of exercise, such as pull-ups, barbell bench press, and squats. Additionally, it has a stylish appearance and is easy to assemble and use. This multi-functional equipment is an essential item for your home gym.
Product Features of Squat Rack with Pull Up Bar.
1.Multi-functional sports equipment with adjustable heights to accommodate various body types.
2.Wide double bars suitable for diverse exercises.
3.Hexagonal backrest for safe and stable support, ensuring comfort during workouts.
4.Stylish design perfect for use at home or at fitness.
5. Enables seamless exercising while showcasing boundless charisma.
Specifications of Squat Rack with Pull Up Bar
Product Name

Squat Rack with Pull Up Bar

Origin

China

Certifications

ISO 9001

Brand

Union Max

MOQ

1 piece

Price

$73-77/piece

Packing

Cartons

Material

Steel

Packages Size

Package 1: 106X36X15cm,

Package 2: 116X36X19

Color

Black+Yellow

G.W

38kg

Applicable

Home, Office, Gym

Usage

Fitness