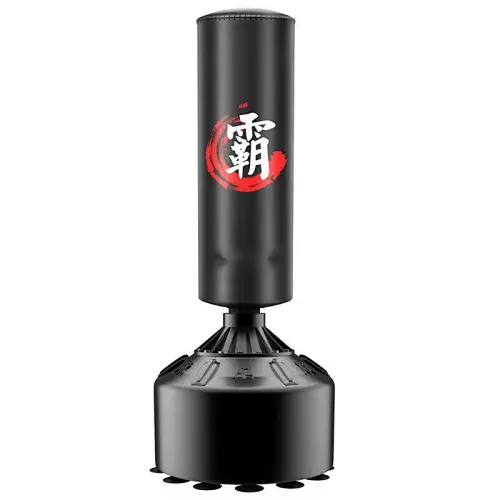 Stand Up Boxing Punching Bag
Union Max Fitness specializes in boxing training products including the highest quality standing punching bags. If you need this product, please feel free to contact us.
Description of Stand Up Punching Bag
The vertical sandbag is mainly composed of a sandbag body and a load base for supporting the sandbag body. The load base and the sandbag body are connected by elastic connectors. The load base needs to be able to withstand the hitting force when the user hits the sandbag body to ensure the sandbag The body will not fall over. Vertical sandbags can be used for basic boxing training or at home for exercise. Choose vertical sandbags. Vertical sandbags are more convenient and can be moved and placed at will, but the price is relatively expensive.
Product Features of Stand Up Punching Bag
1.15°- 45° quick rebound, small shaking amplitude, faster shock absorption, strong anti-hitting ability, and truly unbeatable.
2.Widen the base and make the boxing more stable.
3.High-quality PU leather, plus professional filling material, comfortable and soft cushioning, allowing users to get a better product experience.
4.Hand-stitched thick thread joints, not easy to break.
5.The base can be filled with sand and water for better stability.
6.Notes:This product cannot be used on uneven, textured and rough ground. It must be adsorbed on a smooth and flat mirror surface to ensure that the vacuum inside the suction cup is airtight.
Specifications of Stand Up Punching Bag
| | |
| --- | --- |
| Product Name | Stand Up Punching Bag |
| Origin | China |
| Certifications | ISO 9001 |
| Brand | Union Max |
| MOQ | Customized 100 pieces |
| Price | $28.57-148.00/piece |
| Packing | Woven Bag or Carton |
| Material | PU |
| Color | Black or Red |
| Height | 160-180cm |
| Usage | Boxing Training |