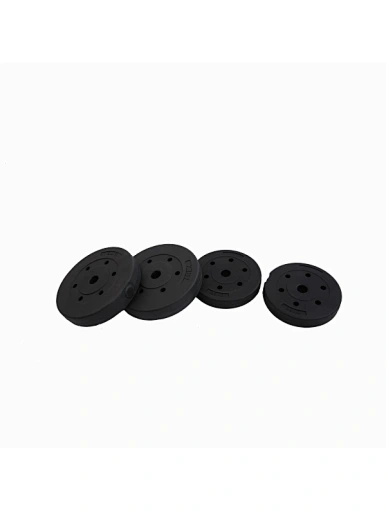 Standard Vinyl Weight Plates
We are manufacturer of strength training products, can provide high quality 30mm 1 kg to 10 kg PE Cement Weight Plates, please contact us if you need it.
Description of Standard Vinyl

 Weight Plate
The Economy Standard Vinyl Weight Plate is an economical and practical barbell plate that can be used in gyms, homes, offices, clubs, and other fitness places. It comes in nine different specifications ranging from 1kg to 10kg, making it the perfect choice for all your fitness needs. The available weights are 1kg, 1.25kg, 1.5kg, 2kg, 2.5kg, 3.5kg, 5kg, 7.5kg, and 10kg.
Product Features of

Standard Vinyl

 Weight Plate
1. The Economy Black PE Cement Weight Plate is available in nine sizes ranging from 1kg to 10kg with a 30mm diameter, suitable for standard barbell bars.
2. Made with a cement inner core and PE shell, this weight plate offers environmental protection, wear-resistant floor protection, tastelessness, and low odor.
3. This product is suitable for garage gyms and home workouts and can be purchased individually, in pairs, or as a set.
4. The package can be conventional carton packaging or pallet packaging.
Specifications of

Standard Vinyl

 Weight Plate
Product Name

Standard Vinyl Weight Plate

Origin

China

Certifications

ISO 9001

MOQ

500kg

Price

$0.35-0.65/kg

Packing

C

arton

Usage

Build muscle

Application

G

ym and your home

Material

Cement and PE Coating

S

ales model

Sold individually, in pairs or as a set

.
Size

1kg

1.25kg

1.5kg

2kg

2.5kg

3.5kg

5kg

7.5kg

10kg

Color

Black

Black

Black

Black

Black

Black

Black

Black

Black

Aperture

30mm

30mm

30mm

30mm

30mm

30mm

30mm

30mm

30mm

Diameter

160mm

175mm

180mm

19

0mm

205mm

240mm

2

6

0mm

297

mm

3

38

mm

Thickness

30mm

30mm

35mm

40

mm

40mm

45mm

52

mm

57

mm

63

mm