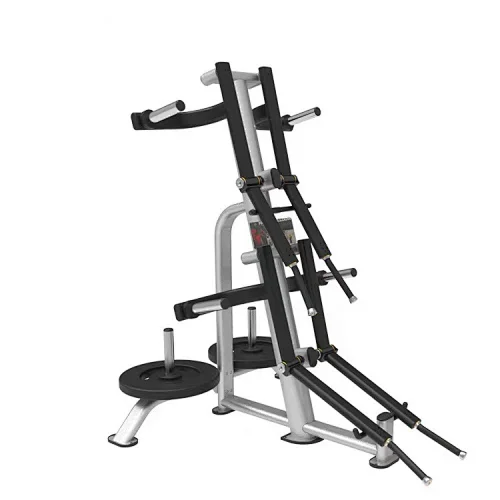 Standing Lateral Raise Trainer
Standing Lateral Raise Trainer-1
Union Max Fitness is a factory that specializes in the production of Standing Lateral Raise Trainers. If you have any needs, please feel free to contact us.
Description of Standing Lateral Raise Trainer
The primary purpose of the shoulder machine is to strengthen the shoulder muscles while also improving shoulder flexibility. The machine utilizes an adjustable counterweight system that can be tailored to meet the needs of diverse user groups. Additionally, the machine features a sturdy load-bearing body made of both square and round tubing, providing a higher level of equipment safety and sports protection.
Product Features of Standing Lateral Raise Trainer
1. The equipment utilizes national standard commercial pipes that have a stable structure and are built with solid materials for safety and reliability.
2. The counterweight on the hanging piece can be adjusted and features four sets of independently adjustable booms.
3. The non-slip grip design provides better grip during exercising and the anti-slip bottom pad design ensures maximum safety protection.
4. The shoulder machine caters to diverse user groups and various purposes, such as weight loss, muscle building, and fitness.
5.The non-slip foot pad design at the bottom enhances stability, increases force-bearing area, and protects floors from damage.
Specifications of Standing Lateral Raise Trainer
| | |
| --- | --- |
| Product Name | Standing Lateral Raise Trainer |
| Origin | China |
| Certifications | ISO 9001 |
| Brand | Union Max |
| MOQ | 1 piece |
| Packing | Cartons |
| Material | Steel |
| Size | 1500*1300*1800mm |
| Color | Black |
| G.W | 125kg |
| Applicable | Home, Office, Gym |
| Usage | Fitness |