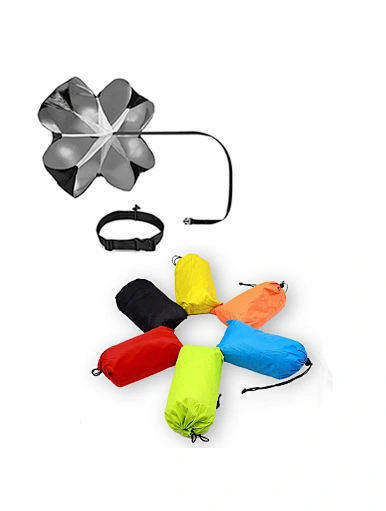 Strength Exercise Umbrella
Strength Exercise Umbrella-1
Union Max Fitness specializes in sports training products including the highest quality Strength Exercise Umbrella. If you need this product, please feel free to contact us.
Description of Strength Exercise Umbrella
When you run with this resistance parachute, the air resistance will generate backward drag force. The faster you run, the greater the drag force will be. Through this kind of exercise, you can improve acceleration ability and muscle endurance. Improve the ability to adjust direction during high-speed running.
Product Features of Strength Exercise Umbrella
1. Made of high-quality materials, safe and non-toxic, you can use it with confidence.
2. Strong and durable high-quality coated cloth with good toughness, which can meet the exercise in various environments and can be used repeatedly.
3. It can be adjusted freely according to the waist circumference, high-quality webbing, wear-resistant, durable.
4. Bright colors, various colors and specifications, which can reflect personalization.
5. The object is light, easy to carry, and can be used for sports training anytime and anywhere.
Specifications of

Strength Exercise Umbrella
| | |
| --- | --- |
| Product Name | Strength Exercise Umbrella |
| Origin | China |
| Certifications | ISO 9001 |
| Brand | Union Max |
| MOQ | 100 pieces |
| Price | $2.48-5.78/piece |
| Packing | Carton |
| Material | Coated Cloth |
| Specification | Single Umbrella/Double Umbrella |
| Size | 150*150cm |
| Weight | 195g |
| Color | Yellow/Red/Blue/Black/Orange/Green |
| Usage | Physical Training |