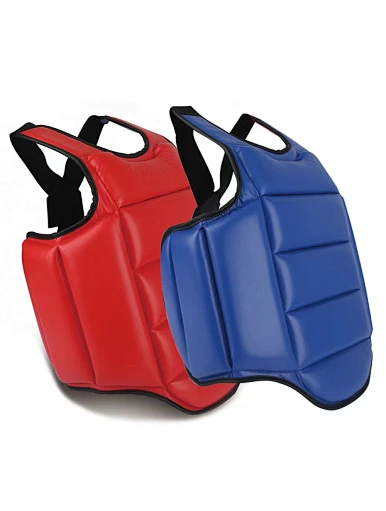 Taekwondo Chest Guard
We can provide a high-quality taekwondo chest guard, if you need it, you can contact us.
Description of Taekwondo Chest Guard
Also known as taekwondo chest protector, a TKO chest protector is a protective gear that protects the body part below the neck and above the waist. And the most in need of protection are the ribs (to prevent them from piercing the lungs) and the stomach. Taekwondo body armor must be red or blue to distinguish the two players. It is worn on the outside of the gi and must be the same color as the helmet.
Product Features of Taekwondo Chest Guard
1.Thickened PU package, durable and wear-resistant, effectively relieve impact.
2.Thickened breastplate and ergonomically cut.
3.Safety first, the TKO protector joints are sewn with double-layer threads, which have strong tear resistance and effectively protect the body.
4.Three textures (plain texture, straw mat texture, and Mayan texture) and two colors are available, with various specifications and selectivity.
5.Advantage: Fitted version, comfortable and breathable, wide adjustment range, and long service life.
6.A lace-up double cord secures the interpretation for durability, and the tension is adjustable.
7.Packaging: cartons.
Specifications of Taekwondo Chest Guard
Product Name

Taekwondo Chest Guard

Origin

China

Certifications

ISO 9001

Brand

Union Max

MOQ

50 pieces

Price

$5.70-10.40/piece

Packing

cartons

Material

PU

Color

B

lue or Red

Size

1#/2#/3#/4#/5#

U

sage

T

aekwondo training or TKO game
| | | | | | |
| --- | --- | --- | --- | --- | --- |
| Size | 1# | 2# | 3# | 4# | 5# |
| height | 115-130cm | 130-145cm | 145-160cm | 160-175cm | 175-200cm |