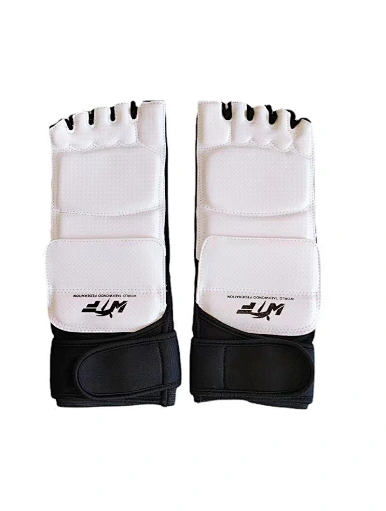 Taekwondo Foot Protector
Taekwondo Foot Protector-1
We can provide a high-quality taekwondo foot protector, if you need it, you can contact us.
Description of Taekwondo Foot Protector
Also known as taekwondo foot guard, a taekwondo foot pads is used to protect the calf. Most taekwondo kicks will have similar protective gear. Generally, there is an elastic band at the back of the taekwondo foot guard to increase the fixation, and a hook and loop are attached to adjust the elasticity. Like most gear, TKO foot protectors usually have air holes to increase breathability and keep them comfortable and hygienic.
Product Features of Taekwondo Foot Protector
1.Material: High-quality PU leather, no discoloration, and no fading.
2.The TKO foot protector uses a 5-8mm thick protective pad with good performance and reduces footwear.  
3.Microporous and breathable, reduce sweating and stickiness.
4.Skin-friendly and comfortable without hurting your feet.
5.The key parts of the TKO protector are double-layer fabric and double-wire reinforcement no easy to tear.
6.Available in five sizes, XS, S, M, L, and XL.
7.Sidekick protection pad.
8.The ankle adopts the double-fixing design of Velcro + around the ankle for more comprehensive protection.
9.With an Extended hook and loop elastic wrist strap, easy to wear and upgraded protection.
10.Package: individually packed.
Specifications of Taekwondo Foot Protector
Product Name

T

aekwondo

F

oot

Protector

Origin

China

Certifications

ISO 9001

Brand

Union Max

MOQ

500 pieces

Price

$2.80-3.80/pieces

Packing

Individually packed

Material

PU

Color

White

Size

XS/S/M/L/XL

U

sage

TKO training or taekwondo kick