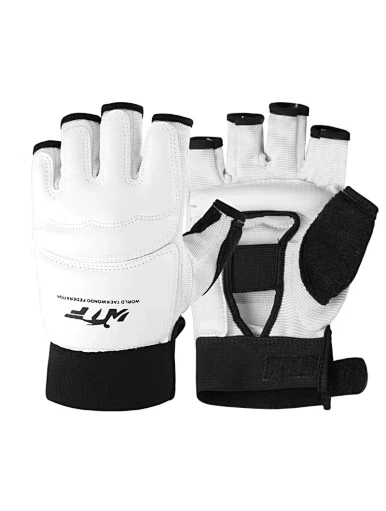 Taekwondo Gloves
We can provide a high-quality taekwondo hand gloves, if you need it, you can contact us.
Description of Taekwondo Gloves
The shape of the taekwondo hand gloves is like an anti-fall glove, and the purpose is not to let the players slap the face like in a boxing match but to protect the hands. When a player opens his hands during the game and hits the hand, it is easy to cause injury or fracture. Wearing taekwondo sparring gloves can make athletes clench their fists which helps protect their hands. 
Product Features of Taekwondo Gloves
1.Specially designed for taekwondo, thicker protection on the back of the hand is more secure.  
2.High wear resistance and high-quality PU material, both super wear resistance and durability, can adapt to various harsh conditions. 
3.High-quality inner filler, with good cushioning function, can effectively reduce the impact force, thereby reducing injury.
4.Mesh design for better ventilation and less sweat.
5.TKO gloves have a Self-adhesive elastic wrist for easy wearing.
6.A separate finger sleeve design makes the fingers more flexible and protects the joints from being bound.
7.There are XS( Length 17cm Width 8.9cm)S(Length 17cm Width 9.5cm) M(Length 18.3cm Width 9.3cm) L(Length 20cm Width 10.5cm) XL (Length 20cm Width 10.8cm)points, there is error value in manual measurement, the actual product shall prevail.
8.Net weight: 0.15kg
9.Packaging: Cartons
Specifications of Taekwondo Gloves
Product Name

Taekwondo Gloves

Origin

China

Certifications

ISO 9001

Brand

Union Max

MOQ

500 pieces

Price

$2.80-3.80/piece

Packing

C

artons

Material

PU

Color

White

Size

XS/S/M/L/XL

Length

17-20cm

Thickness

5-8mm

U

sage

T

aekwondo training or TKO game