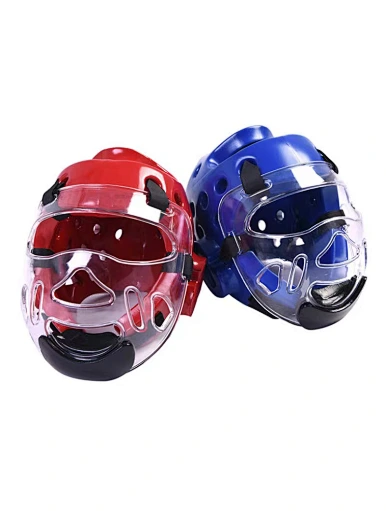 Taekwondo Head Guard
We can provide a high-quality taekwondo head guard, if you need it, you can contact us.
Description of Taekwondo Head Guard
The head of a taekwondo fighter is one of the most easily injured parts, and in the TKO game, both sides hit the opponent's head with their feet to get the most points. Therefore, a taekwondo head protector is an indispensable and important protective gear for taekwondo fighters. The taekwondo head protector used in Taekwondo is soft and divided into three parts: head guard, ear guard, and adhesive tape. The top of the taekwondo head guard with face shield is hollow and has air holes. The detachable mask can be attached if needed and removed when not needed. It is very practical and has a comprehensive protective effect on the face, especially the ears, mouth, nose, etc. (Optional)
Product Features of Taekwondo Head Guard
1.Taekwondo head protector consists of Thickened material to reduce damage.
2.Bright colors, no fading.
3.The hollow design can effectively ventilate and is breathable during intense exercise.
4.One-time molding foam, environmentally friendly NBR foam with plus PU coating, healthy and odorless, increase surface tensile force and elasticity.
5.Competition TKO headgear is available in red or blue.
6.Protruding ear design, thickening, and filling will not affect hearing and reduce damage.
7.Widened Velcro is easy to disassemble and install, and the fit is stable.
8.High-strength masks using new material can withstand high temperatures, repeatedly hit, and protect the head in all directions.
9.Special instructions:
Taekwondo head guards should not be pressed and squished for a long time. Please wipe off the sweat after use. Proper maintenance can maintain elasticity for a long time.
Specifications of Taekwondo Head Guard
Product Name

Taekwondo Head Guard

Origin

China

Certifications

ISO 9001

Brand

Union Max

MOQ

100 pieces

Price

$6.20-11.00/piece

Packing

Opp plastic bag

Material

NBR+PU

Color

B

lue or Red

S

hape

Whether to wear a mask

Size

XS/S/M/L/XL

U

sage

T

aekwondo training or TKO game