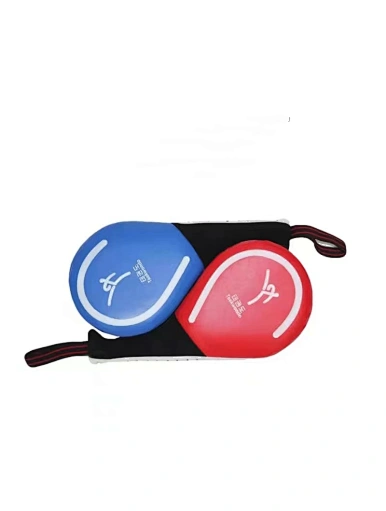 Taekwondo Pad
We can provide a high-quality taekwondo pad, if you need it, you can contact us.
Description of 
T
aekwondo
P
ad
PU taekwondo kicking pads made in china are used in taekwondo training and are essential tools for every taekwondo practitioner. They are indispensable training types of equipment for TKO practitioners. Taekwondo double kicking target can cultivate a sense of attack and distance in actual combat. They can make practitioners gradually master the connection between movements and have a good training effect on the accuracy of TKO kicking.
Product Features of T
aekwondo
P
ad
1. PU material, built-in high-strength EVA, thickened sponge, no deformation, no cracking, and loud sound at the same time.
2. Shock-absorbing sponge design, good cushioning ability, protecting your feet.
3. Built-in stitching, beautiful and fashionable, stable and wear-resistant.
4. Exquisite patterns, Logo is printed with environmentally friendly ink, non-toxic, harmless, and odorless, and can be customized according to customer requirements.
5. Comfortable grip, thickened and widened, more humanized design, making the wrist less prone to injury.
6. The humanized and scientific arc-shaped target design is helpful for the practice of hitting skills.
7. Bright colors, three colors chosen,red, blue, and black, can be customized.
8. Packaging: Cartons.
Specifications of Taekwondo Pad
Product Name

Taekwondo Pad

Origin

China

Certifications

ISO 9001

Brand

Union Max

MOQ

400 pieces

Price

$1.71-3.05/piece

Packing

cartons

Material

PU

Color

B

lue, Red or Black

Size

One size

U

sage

T

aekwondo training or TKO game