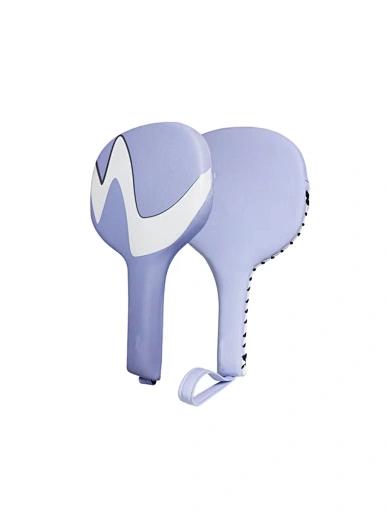 Taekwondo Training Punch Ping-Pong Pads
Taekwondo Training Punch Ping-Pong Pads-1
We can provide a high-quality boxing ping-pong target, if you need it, you can contact us.
Description of Taekwondo Training Punch Ping-Pong Pads
The shape of this taekwondo paddle kick pad is similar to that of a ping pong racket, hence the name ping pong target, which is a type of taekwondo target. This boxing ping-pong target can exercise the hand speed of taekwondo and boxing practitioners, easy to clean, suitable for muay thai, taekwondo, karate, etc. Easy to store without taking up space.
Product Features of Taekwondo Training Punch Ping-Pong Pads
1. 3cm thickening and filling design, feel full, good hitting feeling, rebound, safety protection.
2. The sealing part is bound with high-density nylon thread, and the side is thickened with stitching design, which is not easy to burst.
3. With the wrist restraint, you don't have to worry about the target falling off your hands during the hitting training.
4. The product size is 20.5*36*3cm, there are errors in manual measurement, and the actual product shall prevail; carton packaging, 28 pairs/box.
5. Thickened high-quality PU leather design, wear-resistant and durable, long service life.
6. The product needs to be wiped with water, do not use excessive force, it is easy to deform at high temperature, and it should be placed in a ventilated place for ventilation.
Specifications of Taekwondo Training Punch Ping-Pong Pads
Product Name

Taekwondo Training Punch Ping-Pong Pads

Origin

China

Certifications

ISO 9001

Brand

Union Max

MOQ

10 pieces

Price

$18.10-27.05/pieces

Packing

Carton

Material

PU

Color

R

ed/Blue/Purple

Size

20.5*36*3cm

U

sage

TKO training or taekwondo kick