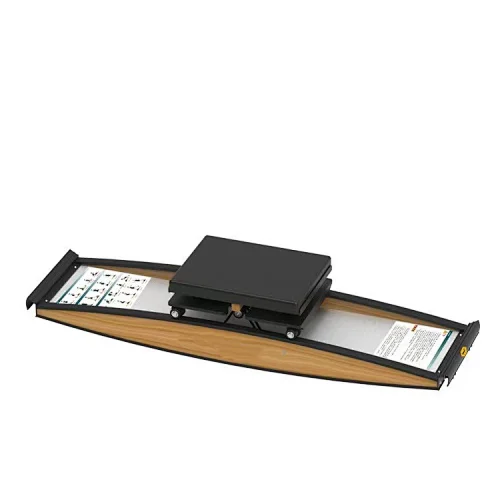 Tec Ski Trainer
We are a professional manufacturer of Tec Ski Trainer. If you need our products, please don't hesitate to contact us.
Description of Tec Ski Trainer
Skiing, which combines the dual advantages of aerobic training and anaerobic training, is more able to exercise the muscles of the whole body. However, due to the limitations of skiing, indoor ski machines have appeared, and you can experience ski belts no matter when and where you are. Come to the fun; say goodbye to boring, simulate the real experience of skiing, and enjoy the joy of sports. The main frame is designed with high-end oak logs, with beautiful wood grain, the smooth hand feels, healthy and environmentally friendly, has a strong load-bearing capacity, and is beautiful and practical at the same time.
Product Features of Tec Ski Trainer
1. Using high-end oak logs as the main material of the ski machine, the stable and firm wood and the firm and corrosion-resistant texture determine its wear-resistant and durable properties, and the careful selection of materials is more assured.
2. Leather cushion, easy to disassemble, soft and comfortable; with rubber rollers, quiet movement does not disturb people, good shock absorption and wear resistance.
3. The simulated ski machine can meet a variety of training actions and adapt to different groups of people. The elastic rope is strong and durable, and the resistance can be adjusted freely from 0-100kg to meet different needs.
4. The bottom pad is equipped with ski poles, and the novice experience and safety guarantee are carried out simultaneously; to avoid sports injuries, the ergonomic design is tailor-made.
5. Beautiful in shape, easy to set up in the home, considerate and sturdy for movement and small-sized storage needs, it can be placed in the corner of the home at any time.
6. The fixed base can be easily disassembled, and the fixed instrument does not shake.
Specifications of Tec Ski Trainer
| | |
| --- | --- |
| Product Name | Tec Ski Trainer |
| Origin | China |
| Certifications | ISO 9001 |
| Brand | Union Max |
| MOQ | 1 piece |
| Packing | Cartons |
| Material | Oak Logs |
| Size | 1300*330*250mm |
| G.W | 18kg |
| Applicable | Home, Office, Gym |
| Usage | Fitness |