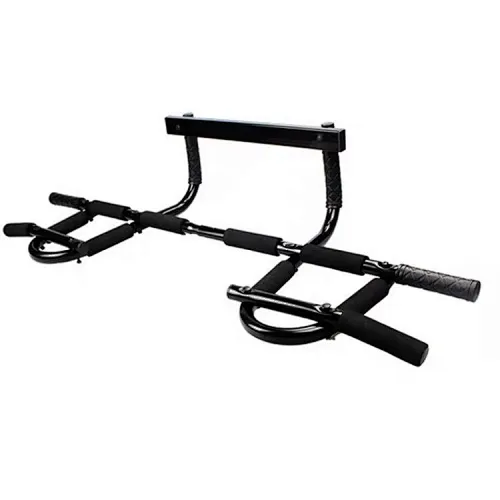 The Second-Generation Door Pull Up Bar
The Second-Generation Door Pull Up Bar-1
Union Max Fitness specializes in home workout products including the highest quality The Second-Generation Door Pull Up Bar. If you need this product, please feel free to contact us.
Description of The Second-Generation Door Pull Up Bar
The second-generation door pull up bar on the door is suitable for any indoor door, without damage to the door frame, easy to install and simple to use. This fitness equipment integrates pull-ups, sit-ups, and push-ups. It is not only suitable for men who love fitness, but also for women who love beauty. It can not only lose weight, but also keep in shape. Such a fashionable and multi-functional fitness equipment, fast Click to own it!
Product Feature of The Second-Generation Door Pull Up Bar
1. Selected thick and fine steel pipe, the diameter of the steel pipe is 25*1.1mm, which is safer, more stable, and has a long service life.
2. The handle adopts thickened foam armrests, so there is no need to worry about sweating in summer and cold in winter.
3. The product size is 105*43*39cm, which has been upgraded in length compared to the first generation
4. The product can bear up to 100Kg weight.
5. Horizontal bar traction can effectively treat lumbar disc herniation, exercise the latissimus dorsi to make the body stronger, and reduce abdominal fat.
6. Using professional screws, anti-slip, anti-loosening design, be sure to use tools to screw it to the end when installing.
Specifications of The Second-Generation Door Pull Up Bar
| | |
| --- | --- |
| Product Name | The Second-Generation Door Pull Up Bar |
| Origin | China |
| Brand | Union Max |
| Certifications | ISO 9001 |
| MOQ | 2pcs |
| Size | 105*43*39cm |
| Pipe Diameter | 25mm |
| Thickness Of Pipe | 1.1mm |
| Max Loading | ≤100kg |
| Color | Black |
| Price | $7.2/piece |
| Packing | Cartons |
| Material | Steel Tube + Sponge |
| Weight | 1.7kg |
| Usage | Arm Training |
| Application | Home |
| Department | ‎Unisex-adult |