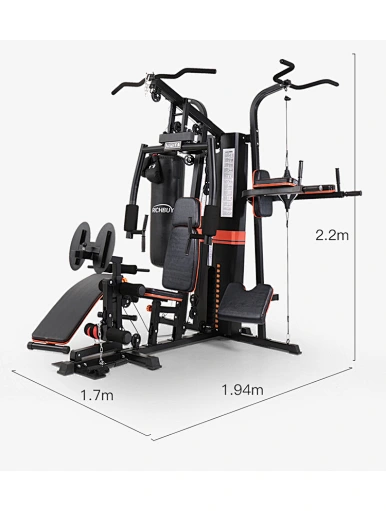 Three Station Multi Gym
Three Station Multi Gym-1
Union Max Fitness is a manufacturer specialized in producing Three Station Multi Gym. If you are interested, please feel free to contact us.
Description of Three Station Multi Gym
The Three Station Multi Gym can be thought of as a simple gym that can be used by the whole family and can exercise all the muscle groups of the whole body. This three-person station comprehensive training device is a combination of training equipment, with luxurious equipment such as supine board, sandbag, weight block, etc., one set to meet the muscles of the whole body, 48+ super full functions, the price for your home, the quality for commercial use experience.
Product Features of Three Station Multi Gym
1. High-density PU leather boxing sandbag, thickened base in Guizi shape, 50*70mm square tube, large force, high load-bearing pressure, more stable and safe.
2. Breathable cushion, with anti-scratch and wear-resistant leather outside, built-in thickened foam, anti-scratch cloth, etc., so that the trainer does not sweat on the cushion during training, which is truly humanized.
3. Using 6mm7 strands of steel wire rope, durable and wear-resistant. Strong load-bearing; the pulley is made of a steel shaft, which will not be stuck during use and has a longer life.
4. With PVC counterweight, it is made of PVC and iron sand, which can effectively prevent water and rust, meet the high-intensity training of fitness enthusiasts, and make every muscle get effective exercise.
5. It adopts the oxidation automobile-grade metal baking paint process, and the spraying process is automatically assembled. The spraying is uniform and beautiful, and it will not rust after long-term use.
6. It adopts soft and permeable bubble cotton, which is very soft, breathable, and comfortable, and helps to relax the leg muscles.
7. With foldable parallel bars, it can be retracted and placed freely without taking up space; the knob of the seat cushion can be adjusted, and the height is random; the thickened protective shell prevents hands from being caught when changing the counterweight; thickened pedals, anti-loosening screws, etc.; household price, commercial quality experience.
Specifications of Three Station Multi Gym
| | |
| --- | --- |
| Product Name | Three Station Multi Gym |
| Origin | China |
| Certifications | ISO 9001 |
| Brand | Union Max |
| MOQ | 1 piece |
| Packing | 7 cartons |
| Material | Steel |
| Tube Size | 50*70mm |
| G.W | 210kg |
| Color | Black |
| Load Bearing | 380kg |
| Counterweight Weight | 75kg |
| Size | 1950*1700*2200mm |
| Applicable | Home, Office, Gym |
| Usage | Fitness |