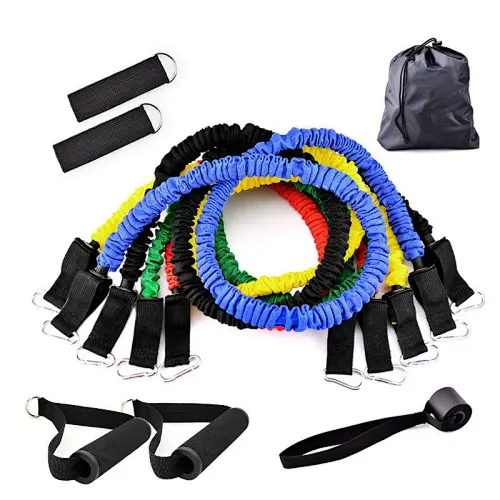 TPE Resistance Band Set with Fabric Cover
TPE Resistance Band Set with Fabric Cover-1
Union Max Fitness specializes in home workout products including the highest quality TPE Resistance Band Set with Fabric Cover. If you need this product, please feel free to contact us.
Description of 11-Pcs TPE Resistance Band Set with Fabric Cover
Set of 11 resistance bands with cloth cover, equipped with 5 tension ropes, suitable for any strength level, whether you are a novice or a bodybuilder, this set of elastic bands will always work well, additionally with a cloth cover, Minimize risk and take your exercise program to the next level. Start your sports life now!
Product Feature of 11-Pcs TPE Resistance Band Set with Fabric Cover
1. This 11-piece stretch band set consists of 5 stretch bands, which can be stacked up to 100 lbs. Resistance band sets can be used together or stacked in any combination. Yellow (10 lbs), Red (15 lbs), Blue (20 lbs), Green (25 lbs), Black (30 lbs).
2. Great for yoga, strength training and other training programs. To effectively build muscle strength and tone the body, there are resistance bands for various exercises targeting specific muscle groups.
3. High flexibility, 2~5 straps can be connected to the handle at the same time to increase the resistance and get twice the result with half the effort.
4. The cloth cover type makes you safer to use, if the elastic tube breaks or springs back, the fabric can protect you from injury.
5. Different resistance tensions to suit progressive strength training levels.
6. What you will get: 5*TPE resistance bands (10/15/20/25/30 lbs), 1 door anchor, 2 ankle straps, 2 foam handles, 1 instruction manual, 1 storage bag.
Specifications of 11-Pcs TPE Resistance Band Set with Fabric Cover
| | |
| --- | --- |
| Product Name | 11-Pcs TPE Resistance Band Set with Fabric Cover |
| Origin | China |
| Brand | Union Max |
| Certifications | ISO 9001 |
| Material | TPE |
| MOQ | 2pcs |
| Price | $8.57/Piece |
| Size | 120cm |
| Packing | Carton |
| Usage | Exercise Your Leg Muscles |
| Application | Home, Gym, Outdoors |
| | | | | | |
| --- | --- | --- | --- | --- | --- |
| Color | Yellow | Red | Blue | Green | Black |
| Size/mm | 5*8*1200 | 6*9*1200 | 5*9*1200 | 5*11*1200 | 7*11*1200 |
| Tension/lbs | 10lbs | 15lbs | 20lbs | 25lbs | 30lbs |