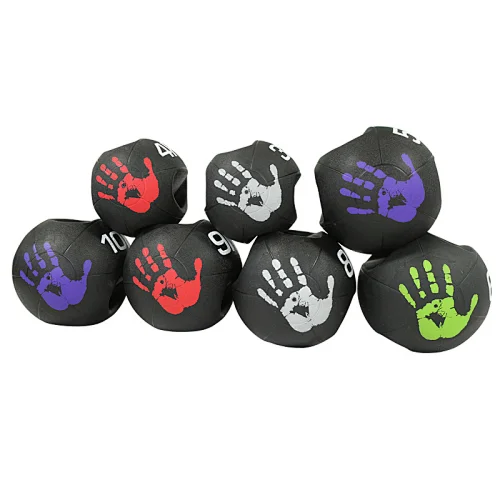 Two Handles Double Grip Medicine Ball Fitness
Double Grip Medicine Ball-1
Union Max Fitness manufactures core exercise products including the highest quality Double Grip Medicine Ball. If you need this product, please feel free to contact us.
Description of Double Grip Medicine Ball
Double grip medicine ball, also known as double ear medicine ball, is made of all-natural rubber and has good rebound and durability. Anti-slip design handle provides a better feel for rehabilitation and strength training. Available in 3kg-10kg.
Product Features of Double Grip Medicine Ball
1. Double grip design, the double grip with non-slip texture allows users to hold this fitness ball firmly, providing a powerful and comfortable workout.
2. Made of eco-friendly materials, the medicine ball is made of eco-friendly and odorless rubber, this medicine ball is 100% harmless to your clients, family, and your health. High-density rubber enhances durability and appearance, making this ball ideal for toning muscles and increasing coordination.
3. Durable and portable: The heavy-duty rubber case resists the wear and tear of the toughest workouts. The balls are durable, portable, and can be used in any setting in the home gym or even outdoors!
4. Great for a variety of workouts, the dual grip design of this medicine ball makes it great for a variety of workouts. From core and strength training to mobility and functional movement.
5. There are 8 weight options: 3kg, 4kg, 5kg, 6kg, 7kg, 8kg, 9kg, 10kg. Each fitness ball is marked with a weight, which is easy to distinguish and adjust the exercise intensity.
Specifications of Double Grip Medicine Ball
| | |
| --- | --- |
| Product Name | Double Grip Medicine Ball |
| Origin | China |
| Brand | Union Max |
| Certifications | ISO 9001 |
| MOQ | 2pcs |
| Price | $12-32/Piece |
| Color | Black |
| Packing | Cartons |
| Material | Rubber |
| Size | 3/4/5/6/7/8/9/10kg |
| Usage | WeightTraining |
| Logo | Custom |
| Application | Gym,Office |