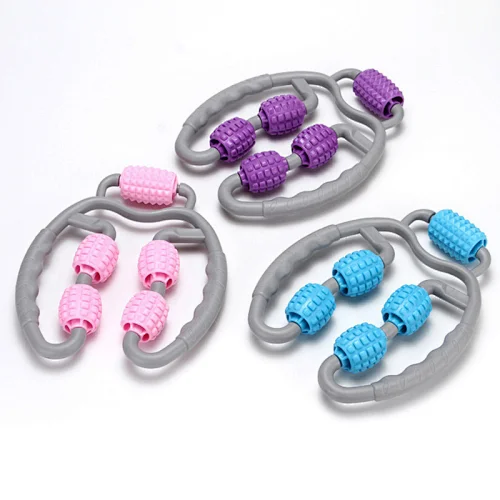 U Shape Massage Roller
Union Max Fitness specializes in the manufacture of Yoga and Pilates products including the highest-quality Massage Roller. If you need this product, please feel free to contact us.
Description of U Shape Massage Roller
U Shape Massage Roller is also called a U-shaped trigger point massage roller. This massager has a unique appearance. Compared with the general foam column massage, it is smaller, flexible, and convenient.
The massager handle part is a PP bracket, which is highly elastic, break-proof, and adjustable. Not only helpful for the forearm and calves but also for the neck, shoulders, waist, and thighs.
U Shape Massage Roller can speed up the blood circulation of the limbs and help reduce the fatigue of the forearm and calf.
The massager has two 3D floating rollers on both sides of the handle, which can be rotated easily, are made of EVA material, and you can choose between soft and hard configurations. The trigger points on the roller are evenly distributed. They can take good care of the edges and corners of the muscles, break up the adhesion of the muscles, and adjust the angle and intensity according to the state of the muscles during a massage. Not only massage deeper but also the effect will be better.
Specifications of U Shape Massage Roller
| | |
| --- | --- |
| Product Name | U Shape Massage Roller |
| Features | Flexible, Adjustable, Portable, High Elasticity and Anti-break |
| Origin | China |
| Certifications | ISO 9001 |
| MOQ | 20 piece |
| Brand | Union Max |
| Net weight | 360g |
| Price | $1.92-2.79/piece |
| Color | Blue, pink, purple |
| Application | Indoor and outdoor exercise |
| Material | PP+EVA |
| Usage | Yoga exercise |
| Size | 25*23*3CM |
| Custom Size & Logo & shape | Please contact us individually for customization |