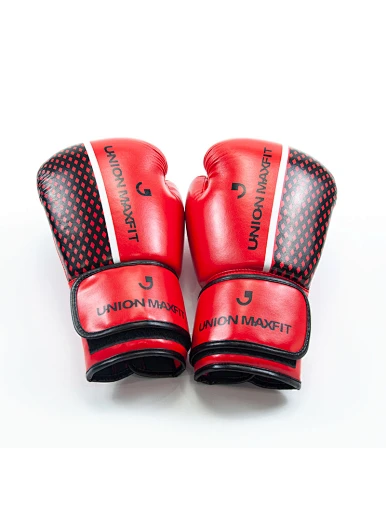 UNION MAXFIT Boxing Gloves
If you're in the market for high-quality boxing gloves, we have you covered! Our gloves are made with premium materials to ensure your safety and comfort. Plus, we offer custom logo services so you can make your gloves truly unique. Contact us today to get started!
Description of Boxing Gloves 
Boxing gloves are a type of punching gloves that boxers must wear to take part in boxing competitions as per the regulations set by the International Amateur Boxing Federation. These gloves are designed to protect the boxer's wrists and finger joints from injury during a match. Without the necessary protective gear, boxers risk dislocating their fingers in the heat of the fight. Wearing PU boxing gloves helps to absorb the impact of punches, providing both the boxer and their opponent with additional cushioning and safety. As such, boxing gloves are an essential piece of equipment for any boxer.
Product Features of Boxing Gloves 
1. The inner liner of the gloves is formed at once, providing comfort and a strong rebound after impact.
2. The palm features ventilation holes to let in cool air when in motion, ensuring no stickiness.
3. The first peak is thickened for enhanced buffer performance and protection.
4. An extended Velcro strap for improved stability and easy wearing.
5. Customizable colorful and attractive patterns available.
Specifications of Boxing Gloves 
| | |
| --- | --- |
| Product Name | Boxing Gloves |
| Origin | China |
| Certifications | ISO 9001 |
| Brand | Union MaxFit |
| MOQ | 30 pairs |
| Price | $5.61-7.01/pair |
| Packing | Cartons |
| Material | PU |
| Color | Red |
| Size | 6 oz, 8 oz, 10 oz, 12 oz |
| Usage | Boxing Training |