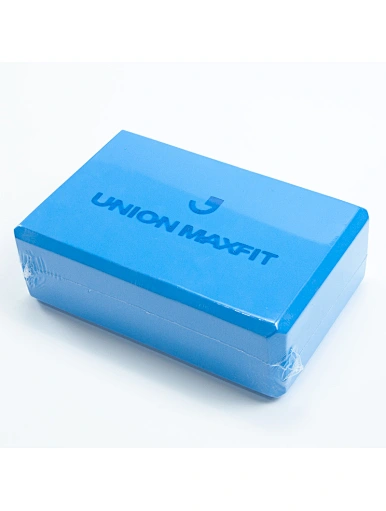 UNION MAXFIT EVA Yoga Block
We have high-quality, cast-effective EVA yoga block products and other yoga products, if you need them, please contact us.
Description of EVA Yoga Block
A yoga block is an aid that helps practitioners deepen their understanding and expression of asanas. Assistive devices also allow us to experience poses that require more support, building the necessary strength for us to perform better poses.
This yoga block is made of high-density EVA material, which is spliced together with thermal compound technology to reduce the gap in the center core. Every corner of the block is filled, creating a sense of tight unity and escorting yoga practice. Because its material has a non-slip surface, it ensures you can hold it securely. What's more, the blocks have three-dimensional angular cut surfaces, which are user-friendly details that provide a comfortable and stable grip.
Not everyone is a master at the beginning. It is recommended for beginners to use EVA block for practice. For beginners in yoga, it involves a bridge-style shoulder stand, which is supported by a block, and the practitioner feels that the support position is relatively hard and uncomfortable. EVA block can be used. After all, it has a comfortable touch, safety, and the same time. Support strength. Especially in the repair period and for sensitive people, it will be more comfortable and easy to use. Or when using bricks, such as a handstand or magic chair pose, it is also very suitable to use, which not only prevents the skin from being uncomfortable in the clamping but also prevents the bricks from falling suddenly and hurting the body. It is also suitable for the elderly. It is very considerate.
EVA yoga block is waterproof and anti-corrosion. When washing, put it directly into the water, it will not absorb water. Soft yet firm, it reduces discomfort during prolonged use and provides strong support during training. There are single-color and two-color styles, that support laser engraving and customize your LOGO and pattern.
Specifications of EVA Yoga Block
| | |
| --- | --- |
| Product Name | EVA Yoga Block |
| Features | Soft, portable, anti-corrosion, environmentally friendly, non-toxic |
| Origin | CHINA |
| Certifications | ISO 9001 |
| MOQ | 100 pieces |
| Brand | UNION MAXFIT |
| Net weight | 3*6*9 inch:120g/180g |
| Price | $0.79-1.16/piece |
| Colour | Purple, blue, pink, green,black,gray, orange, acid blue |
| Shape | Cuboid |
| Application | Indoor and outdoor exercise |
| Material | EVA |
| Usage | Yoga exercise |
| Size | 3*6*9 inch |
| Custom Size & Logo & shape | Please contact us individually for customization |