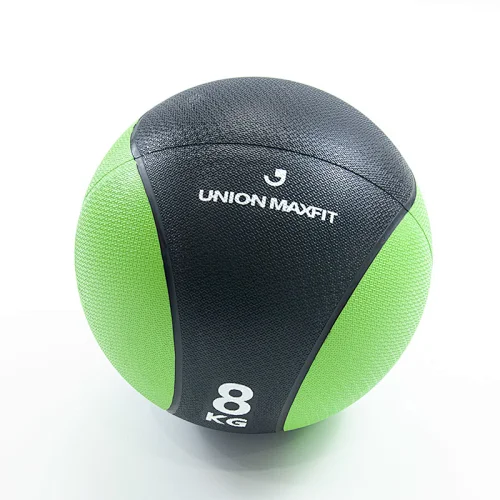 UNION MAXFIT Rubber Medicine Ball
We offer high-quality, cost-effective rubber medicine balls at competitive prices. If you require custom logo services, we can also provide them. Contact us today to learn more about how we can meet your needs.
Description of Rubber Medicine Ball
The rubber medicine ball, often referred to as a gravity ball, is an effective tool for sculpting and toning the upper body muscles. It maximizes the muscle exercise and helps to achieve an ideal silhouette by reshaping the body.
Product Feature of Rubber Medicine Ball
1. This rubber medicine ball is made of high-quality anti-explosion rubber with a soft elastic shell, it can withstand high pressure no matter if you hit or hit it hard on the floor or wall.
2. It has a textured surface that provides a tight and comfortable grip during your workouts.
3. It is easy to carry around and is a good tool for exercising muscles, training core strength, and improving body coordination.
4. 5 weight options: 2kg, 4kg, 5kg, 7kg, and 8kg are available.
5. Colorful design, dark blue, light blue, red, purple, green, or other colors are matched with black, which is more attractive in color.
6. The medicine ball can be used for overhead lunges, squats, punches, kneeling push-ups, sit-ups, etc. Perfect for beginners, athletes, fitness enthusiasts, and anyone looking for a healthy body.
Specifications for Rubber Medicine Ball
| | |
| --- | --- |
| Product Name | Rubber Medicine Ball |
| Origin | CHINA |
| Brand | UNION MAXFIT |
| Certifications | ISO 9001 |
| MOQ | 2pcs |
| Price | $5.3-18.5/Piece |
| Color | Black red, Black blue, Black Purple, Black green |
| Packing | Cartons |
| Material | Rubber |
| Size | 2kg, 4kg, 5kg, 7kg, 8kg |
| Diameter | 19-30cm |
| Usage | WeightTraining |
| Logo | Custom |
| Application | Gym,Office |