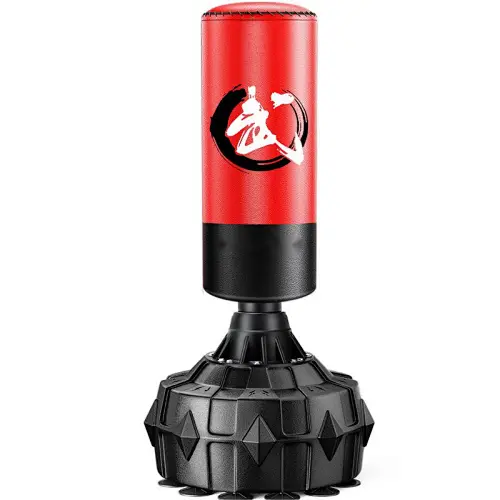 Vertical Boxing Punching Bag
Vertical Boxing Punching Bag-1
Union Max Fitness specializes in boxing training products including the highest quality Vertical Boxing Punching Bag. If you need this product, please feel free to contact us.
Description of Vertical Boxing Punching Bag
The bottom of the vertical boxing sandbag supports the elastic rod in the middle of the sandbag as a connection point. This training method focuses on developing a person's explosive power, punching speed and resistance. A standing punching bag is a piece of equipment that any home gym should have. It offers ways to exercise effectively and improve your fitness. Additionally, boxing and martial arts training with standing punching bags can help reduce stress and anxiety levels.
Product Features of Vertical Boxing Punching Bag
1. With a wider and thicker barrel-shaped base, this sandbag offers exceptional stability, allowing you to unleash powerful punches, kicks, and strikes without worrying about it tipping over. Additionally, this design enhances the sandbag's durability, ensuring it can withstand years of intense use.
2. Equipped with twelve suction cups at its base, this sandbag is designed to absorb shocks and minimize noise during workouts. A 360-degree rebound function further ensures that impact forces are evenly distributed, creating a smooth and consistent training experience.
3. The vertical design of this sandbag is engineered to optimize stability and balance, allowing you to focus on your technique and form without distraction. This design also minimizes wear and tear, ensuring the sandbag performs effectively for years to come.
4. Featuring multiple layers of protection, including high-density PU material, a power-buffering layer, and high-elastic pearl cotton, this sandbag provides superior impact resistance, protecting your hands and other body parts from injury during intense workouts.
Specifications of Vertical Boxing Punching Bag
| | |
| --- | --- |
| Product Name | Vertical Boxing Punching Bag |
| Origin | China |
| Certifications | ISO 9001 |
| Brand | Union Max |
| MOQ | 50 pieces |
| Price | $28.06-72.31/piece |
| Packing | Carton |
| Material | PU |
| Color | Black/Red |
| Height | 170cm |
| Usage | Boxing Training |